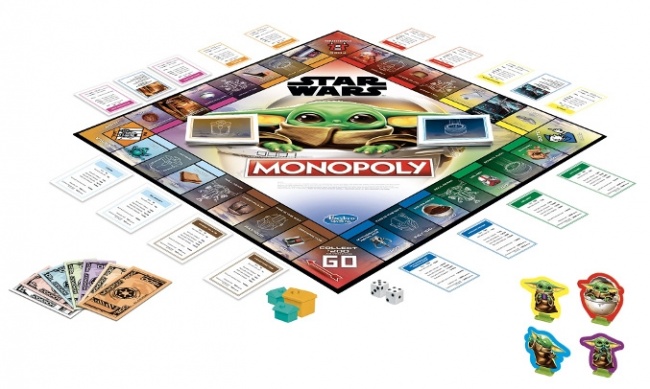 Hasbro has announced
Monopoly: Star Wars The Child
, tied to the "Baby Yoda" character (the popular term for the character officially named "The Child") from the Disney+ series
The Mandalorian
. Players use cardboard tokens in pawn stands of the Baby Yoda character in different poses (eating a frog, using the force, drinking a cup of broth, and sitting in the Hoverpram) to move around the board, which features Mandalorian-themed places and objects such as a Cup of Broth, a Frog, Tracking FOB, Razor Crest Cockpit, and Razor Crest Storage Bay.
Monopoly: Star Wars The Child
includes the board, 4 cardboard tokens with pawn stands, 18 Title Deed cards, 16 Bounty Puck cards, 16 Camto9no cards, 32 plastic hideouts, 12 plastic common houses, 12 dice, money pack, and game guide.
The game is for 2 to 4 players 8 and up, and retailers for $19.99. Release date is September 1. The second season of the show is due to premiere in October.