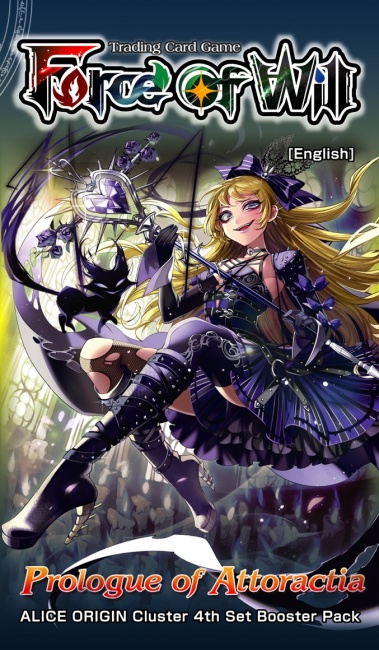 Force of Will, Inc. revealed
Prologue of Attoractia
, a new set for
Force of Will Trading Card Game
, for release into trade on August 21.
Prologue of Attoractia will be the fourth booster pack set released for the Alice Origin wave. Each pack contains 10 cards, and the set breaks down to having 83 kinds of Normal cards, 21 kinds of Rare cards, 15 kinds of Super Rare cards, 5 kinds of Marvel Rares, 5 kinds of Basic Magic Stones, 9 kinds of Token cards, 9 kinds of Life counter cards, and 3 kinds of Will coin cards. Prologue of Attoractia also features a buy-a-box promo that will be one of three different kinds a Ruler card from with boxes coming with 36 booster packs and a carton will have 6 boxes.
There will also be a prerelease kit for Prologue of Attoractia. This kit will contain 72 packs of the new set (increased from 60 in previous sets), 12 copies of a special PR card, and 2 playmats. It will be made available in time for this set's August 14 prerelease date.
Force of Will, Inc. last announced Alice Origin III which was scheduled to release today, May 22 (see "Force of Will, Inc. Reveals 'Alice Origin III' for 'Force of Will TCG'").
Click Gallery below for full-size art preview images!