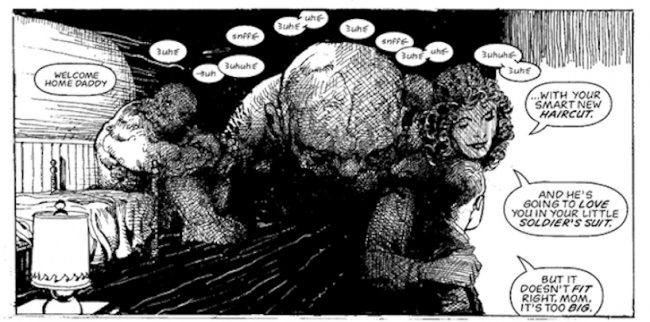 Fantagraphics Books has acquired world publishing rights to Barry Windsor-Smith's graphic novel
Monsters
, a 360-page magnum opus that has taken Windsor-Smith over 35 years to complete, the company announced. The most recent published work by Windsor-Smith, who made his bones on
Conan
at Marvel in the early 1970s, was Fantagraphics'
The Freebooters
, published in 2005.
Monsters is the story of a military recruit who's enrolled in a secret U.S. government experiment, a continuation of a World War II Nazi genetics program. A sergeant seeking to protect the recruit sets off a chain of events that spin out of control, with monsters real and metaphorical multiplying toward the story's emotional and moral reckoning.
The art is in pen-and-ink. Fantagraphics was effusive in its description of the work. "[T]he visual storytelling with its sensitivity to gesture and composition is the most sophisticated of the artist's career," the company's statement said. "It is surely one of the most intense graphic novels ever drawn."
Planned release date is January 2021, at $39.99.
Fantagraphics publisher Gary Groth has had a lengthy history with Windsor-Smith. "I've known Barry for over 50 years now, so publishing his biggest and most artistically mature work to date is a personal and professional milestone for me, and I'm grateful that he's entrusted this important work to us."" Groth said in a statement accompanying the announcement.
Click Gallery below for sample art!