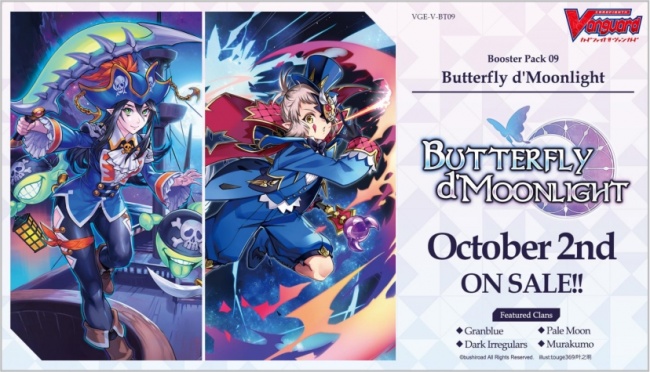 Bushiroad has announced the
Butterfly d'Moonlight
booster pack expansion for the
Cardfight!! Vanguard
trading card game, set to release on October 2.
The Butterfly d'Moonlight set offers support for four featured clans: Granblue, Pale Moon, Dark Irregulars, and Murakumo. The five Vanguard Rares included in the set will be "Vampire Princess of Night Fog, Nightrose," "Masked Magician, Harri," "Silver Thorn Dragon Empress, Venus Luquier," "Scharhrot Vampir," and "Stealth Rogue of Revelation, Yasuie." The expansion also introduces a new marker for the Granblue clan that can be used even in decks that have RRR and lower rarity cards.
Butterfly d'Moonlight will be packaged with the same increased rarity ratio featured in the Silverdust Blaze set (see "'Silverdust Blaze' Engulfs 'Cardfight!! Vanguard'"), with higher VR/RRR ratios, VR and RRR cards with special treatments, and SP Clan Packs.
The complete Butterfly d'Moonlight set will have 94 cards (with 6 reissue cards) with the following rarities: 5 VR, 11 RRR, 12 RR, 22 R, and 44 C. There will be 34 parallel cards plus 1 marker type. The expansion will be packaged in seven-card booster packs, with each pack containing two R or higher cards. The booster packs will be sold in 16-pack display boxes, with 20 displays per carton. Each display box will also include bonus clan dice.
Retailers will be able to host a preview event the weekend of September 25-27 with the Butterfly d'Moonlight Sneak Preview Kit. Each kit includes 39 booster packs, 9 promotional cards, and 2 premium rubber playmats.
The new set is schedule to release alongside the Master Lord Blaster premium deck, also slated for October 2 (see "'Majesty Lord Blaster' Comes to 'Cardfight!! Vanguard'").