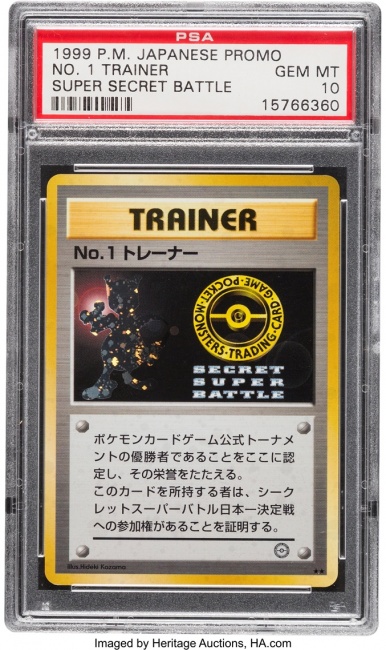 Heritage Auctions announced their highlights from their latest Comics & Comic Art Signature Auction in Dallas, happening July 9 to July 12. Among the items up for bid are an ultra rare
Pokemon
card, a high-grade
Super Mario Bros.
cartridge, and other video game items.
One of the top billed items for the July auction is a the Pokémon Super Secret Battle "No. 1 Trainer" Trainer Promo Hologram Trading Card (1999) PSA Gem MT 10. It is a "holy grail" for Pokemon TCG collectors, and was only given out as promo to winners of one of seven 1999 regional tournaments. Only seven of these cards are known to exist in the wild, six of which have a Gem Mint 10 rating. For collectors, this is easily a bucket list card, and may command a six-digit number when the hammer drops.
Alongside the rare Pokemon card, Heritage is also auctioning several rare video game cartridges. The notable items in this lot are a Super Mario Bros. - Wata 9.4 A+ Sealed [Hangtab, 3 Code, Mid-Production], NES Nintendo 1985 USA and a Mike Tyson's Punch-Out!! - Wata 9.2 B Sealed [Rev-A, Round SOQ, Mid-Production], NES Nintendo 1987 USA. The Super Mario Bros. cartridge features a cardboard hangtab, which means that it was an earlier release US test market copy, thus making it highly desirable. Previously, a Wata 8.0 A sealed copy of Super Mario Bros. with the cardboard hangtab attached sold for a record-breaking $40,200. The copy of Mike Tyson's Punch-Out!! up for auction is the highest-graded copy Heritage has ever offered with the rounded seal. A similar Wata 8.5 A copy of the game went in the May auction for $45,600.
Heritage Auctions have been doing very well during the COVID-19 pandemic, and having better than normal sales (see "Pandemic Quarantine Has Been Good for Collectibles Auctions").
Click on Gallery below to see full-size images!