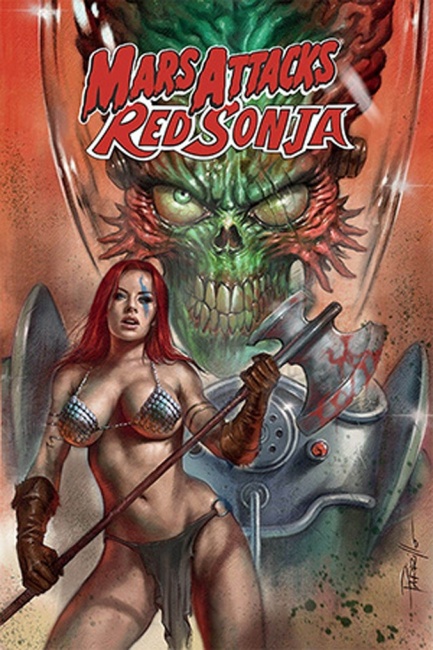 Dynamite Entertainment revealed
Mars Attacks Red Sonja
#1 for release August 26.
Like something out of the Rob Zombie song Mars Needs Women, the she-devil with the sword prepares to take on the green-skinned invaders from a red planet. The Martians of the Hyborian Age are coming to take over Earth, but they didn't count on having to deal with Red Sonja's steel and savagery when they arrived. This book features Eisner award-winning writer John Layman's return to both Red Sonja and Mars Attacks with art Fran Strukan as well as six covers by Lucio Parrillo, Dustin Nguyen, Arthur Suydam, Luca Strati, and Barry Kitson.
Mars Attacks Red Sonja #1 comes with 32 full-color pages, and will retail for $3.99.
Recently, Dynamite Entertainment is stepped into the breach left by the Big Two comic publishers by moving its five best sellers into this week (see "Dynamite Moves Its Best Sellers to Skip Week, including 'The Boys: Dear Becky'").
Click on Gallery below for full-size images!