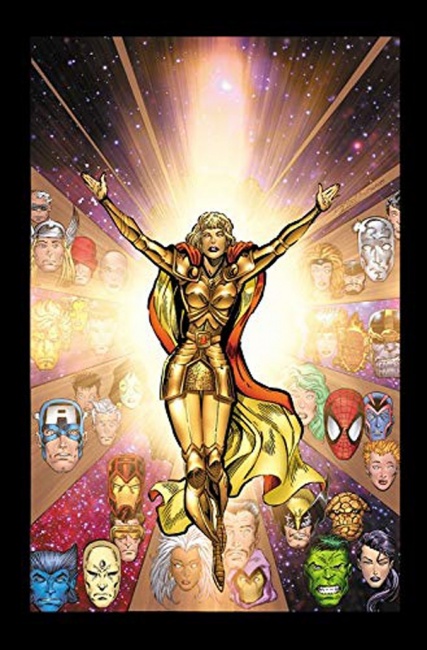 Marvel Comics announced
Infinity Crusade Omnibus
, a 1,200-page hardcover volume, for release into trade in January 2021.
The Infinity Trilogy's conclusion has been collected in this colossal hardcover omnibus. The Goddess, Adam Warlock's unaltered good personality, has come to bring peace to the universe, but Thanos and Mephisto stand in her way. This volumes contains Infinity Crusade #1-6, Warlock Chronicles #1-5, Warlock and the Infinity Watch #18-22, Thor (1966) #463-467, Iron Man (1968) #294-295, Avengers West Coast #96-97, Darkhawk #30-31, Cage (1992) #17, Alpha Flight (1983) #124-125 and #127, Marc Spector: Moon Knight #57, Silver Surfer (1987) #83-85, and Deathlok (1991) #28 as well as material from Doctor Strange, Sorcerer Supreme #54-56, Alpha Flight (1983) #122-123 and #126, Web of Spider-Man (1985) #104-106, Silver Sable & the Wild Pack #16-17, and Deathlok (1991) #29.
Infinity Crusade Omnibus was written by Jim Starlin, Ron Marz, Len Kaminski, Roy Thomas, Danny Fingeroth, Marcus Mclaurin, Simon Furman, Terry Kavanagh, and Gregory Wright. It features pencils by Ron Lim, Tom Raney, Kris Renkewitz, Angel Medina, Tom Grindberg, Bruce Zick, Kevin Hopgood, Andrew Currie, Anthony Williams, Scott Benefiel, Pat Broderick, Dario Carrasco Jr., Stephen Platt, Cully Hamner, Ernie Stiner, Kevin Kobasic, Geof Isherwood, Alex Saviuk, and Steven Butler. The two covers for this hardcover will be by Ronald Lim (Main Cover) and Stephen Platt (DM cover).
Marvel Comics also announced Moon Knight Omnibus Vol. 1, a 1016-page hardcover volume featuring the tales of Moon Knight, for release on January 19, 2021 (see " 'Moon Knight' Gets Omnibized in Massive 1016-Page Volume").