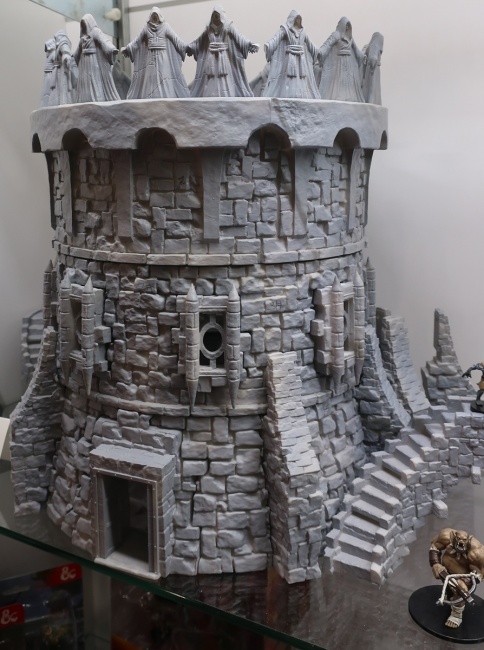 WizKids will release
D&D Icons of the Realms: The Tower
, a three-level miniature setting for use with
Dungeons & Dragons RPG
, into retail stores in November. WizKids previewed this massive miniature setting at New York Toy Fair 2020 (see "
Towering New 'Icons of the Realms' Plus Combative Gnomes
").
Long-forgotten towers are an essential part of D&D adventures, whether the party has stumbled across a overgrown ruin or the home of a reclusive wizard. This three-level tower features a modular design and removable layers, so players can customize its appearance to fit their gaming needs. The Tower has removable windows, buttresses, stairs, and floors, and features three double-sided floor tiles, with a gridded and non-gridded versions. Also, each section of the tower is 100 mm tall, and buttresses on the ground floor can be taken out or rearranged to accommodate the scenario.
The box comes with a Bottom Floor, a Middle Floor, a Top Floor, a Top Floor Landing, a Top Floor Skylight, 4 Butresses Style 1, 4 Butresses Style 2, a Door, 8 Windows, 3 Staircases, and 3 Double-sided Floor Tiles. The Tower will retail for $249.99.
Click on Gallery below for full-size miniatures!