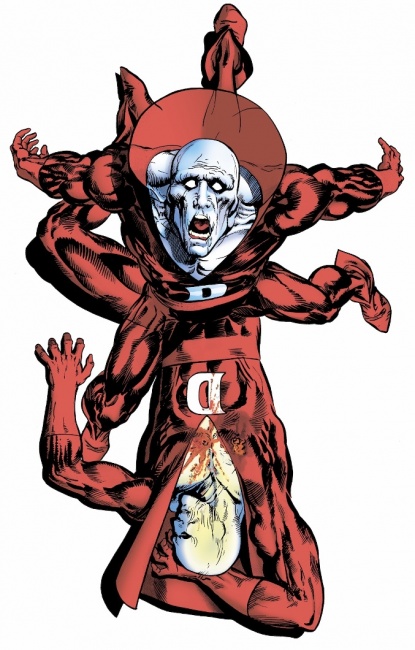 Deadman, the DC superhero whose power is that he is dead and therefore can possess any living being, is getting the omnibus treatment with the publication of the massive, 944-page hardcover
Deadman Omnibus,
which collects Deadman stories starting with his creation in 1967. The omnibus will go on sale on December 8, 2020, with an MSRP of $99.99.
Deadman was the brainchild of Arnold Drake and Carmen Infantino and debuted in
Strange Adventures
#205. The story was handed over to Neal Adams and Jack Miller after the first issue and they continued it into a series that spanned seven issues when it was reprinted in 1985. That first story won the 1967 Alley Award for Best New Strip, and the Neal Adams segment was entered into the 1968 Alley Hall of Fame. Since then, Deadman has appeared in a number of series. The omnibus will include
Strange Adventures
#205-216;
The Brave and the Bold
#79, #86, #104, and #133;
Aquaman
#50-52;
Challengers of the Unknown
#74 and #84-87;
Justice League of America
#94;
World's Finest Comics
#223 and #227;
The Phantom Stranger
#33 and #39-41;
Superman Family
#183;
DC Super-Stars
#18;
DC Special Series
#8;
Adventure Comics
#459-466;
DC Comics Presents
#94;
Detective Comics
#500;
Deadman
#1-4 (1986); and
Secret Origins
#15.
The creators in the omnibus include writers Arnold Drake, Bob Haney, Jack Miller, Neal Adams, Denny O'Neil, Gerry Conway, Len Wein, and Paul Levitz and artists Neal Adams, José Luis García-López, Jim Aparo, Carmine Infantino, George Tuska, Keith Giffen, and Mike Grell.