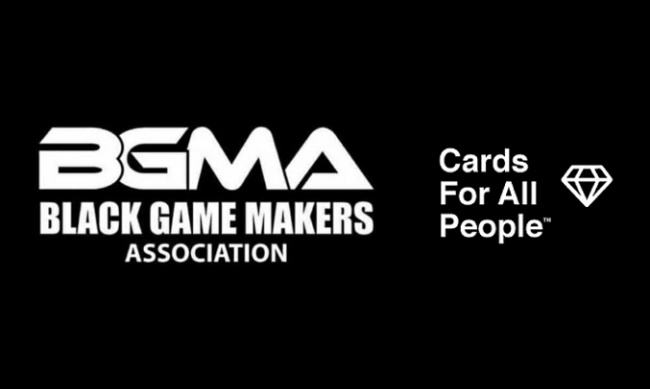 A group of minority game makers, organized by the Black Game Makers Association and Cards For All People, have created an open letter to big box retailers urging resources and inclusion for game makers of color. The more than 40 signers demand that retailers "commit to diversity, equity, and inclusion," and ask that they commit to five specific actions:
Provide the same opportunities for buyer engagement as are afforded to non-minority owned brands such as Hasbro, Mattel, Asmodee and Spin Master.
Create dedicated shelf space for businesses that make products catering to people of color, women and LGBTQIA+ people.
Create programming that helps buyers learn about diverse products and communities they have little to no knowledge of.
Strengthen their existing commitments to our communities beyond cultural holidays and advertising.
Set a measurable, quantifiable financial investment goal and ensure transparency in reporting to demonstrate accountability to customers.
"Together, we are 49% of the US population yet the big game manufacturers do not make products for us and the retailers do not do business with us," Cards For All People co-founder Jay Bobo said of the need for change.

"Lack of representation in this sector of American business is why we started BGMA," Black Game Makers Association CEO Lamont A. Harrell II said. "Initiating this sort of dialogue to bring resources and education for both entrepreneurs and corporate entities will undoubtedly affect all members of the game community."

The group cited Target as a positive example of inclusion in game merchandising. "Our business with Target is an example of what inclusion looks like in the game space, Cards For All People co-founder Latesha Williams said. "Their resources for minority-owned businesses to learn and dialogue with buyers and executives have helped cultivate a relationship between Target and Cards For All People that creates revenue and inclusion simultaneously year-round, not just during Black History Month."

Signees:
AUXGOD: Music Battle Card Game
Play Black Wall Street
Millennial Toons
Latino Card Revoked
Angry Moms
Pull Your Card
Black Card Revoked
Tragos
AZN Flush
The 1998 Deck.
Got Bars? The Lyric Trivia Game
KeepWOL (Keep Wondering Out Loud) Board Game Brothas
Fam Foolery
G.O.A.T (The Greatest of All Time)
Design Eye
Last 2 Standing
STACK'EM Cards
The War On Love
Magnobrain
SawseGames
Stack Em
Rhyme Antics
Brilliant or BS
Trap Spelling Bee
Girls Night Out
University of Dope
Discretion
Factions
Election Day The Game
Verified (The Game)
Hillman: The Game
Winsults
Hip-Hop Charades
Trading Races
Shapes Design Company
Darker Hue
Remember This!?!
The Rules 4 Life
Full Disclosure the Dating Game
7 & 7 by Times Infinity Games
Darker Hue Studios
Unpossible Game Labs
Campus Card Games
Allies:
Black Game Makers Association
Game Manufacturers Association