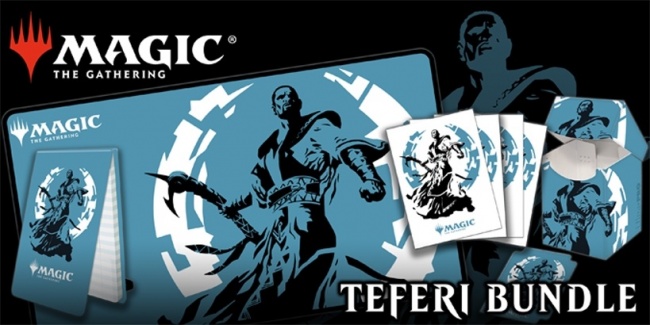 Ultra PRO has unveiled the
Teferi Bundle
, an Planeswalker-themed accessory set for
Magic: The Gathering
, for release into retail in October.
Magic: The Gathering fans love the Planeswalker Teferi, so much so that WotC printed nine different non-foiled versions of him Core Set 2021 (see "Wizards of the Coast Reveals More Deets on 'Magic: The Gathering' 'Core Set 2021'"). Now, Magic players can express their affection for this popular Planeswalker with Ultra PRO's latest bundle. The Teferi Bundle comes with 1 stitched-edge playmat, 100 standard-sized Deck Protector sleeves, a PRO 100+ Deckbox with divider, a Life Pad, and a storage box that can hold up to 700 sleeved cards.
This themed set will retail for $44.99.
Ultra PRO will also release three new Satin Towers, deck boxes for use with standard-sized TCG cards, in August 2020 (see "Ultra PRO Reveals Three New Deck Towers").
Click on Gallery below for full-size images!