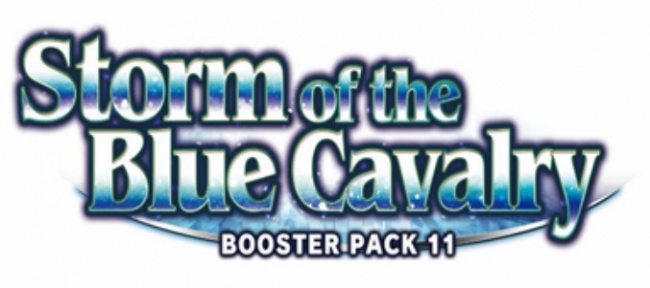 Bushiroad will release
Cardfight!! Vanguard Booster Pack 11 - Storm of the Blue Cavalry
on November 20.
Storm of the Blue Cavalry
features the Aqua Force, Nubatama, Nova Grappler, and Great Nature Clans. The new set will feature ASR (Another Secret Rare) versions of 'Blue Storm Dragon, Maelstrom' and 'Blue Storm Supreme Dragon, Glory Maelstrom'.
Storm of the Blue Cavalry
contains 89 types of cards (81 new, 8 reissue), plus various parallels (36 SP + 2 ASR). Rarities for the set include VR: 5, RRR: 11, RR: 12, R: 18, C:43. Six types of Critical Triggers and two types of Front Triggers are planned for reissue. Each booster pack contain 7 random cards, with 2 cards being a R or higher rarity. Each display contains 16 packs and a bonus Clan dice box topper, with 20 displays per carton.
Stores will be able to host a preview weekend November 13 - November 15 by purchasing a
Storm of the Blue Cavalry Sneak Preview Kit.
Each kit is designed to support 8 players and contains two premium rubber playmats (1 design), 8+1 exclusive PR card, and 39 booster packs. Each player will receive four booster packs with the remaining seven packs used as prize support for winning Cardfighters.
Storm of the Blue Cavalry
follows the October release of
Phantom Dragon Aeon
(see "
Bushiroad Reveals 'Cardfight!! Vanguard' 'Phantom Dragon Aeon' Products
").