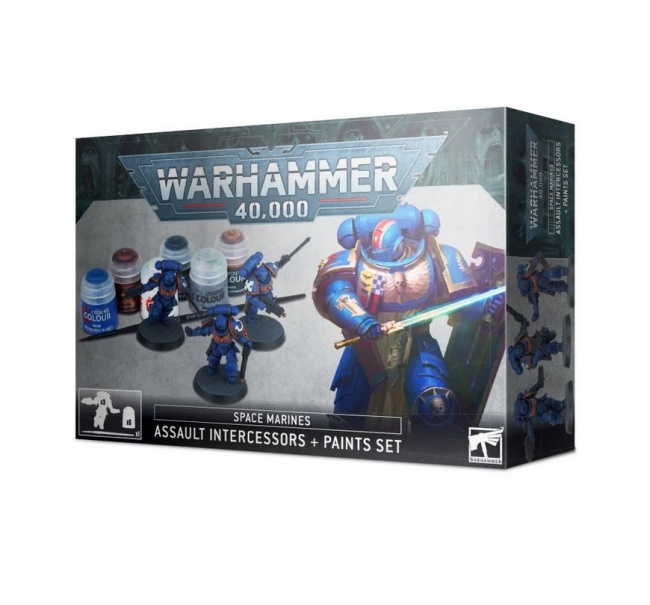 Games Workshop will release
Space Marines: Assault Intercessors + Paints Set
and
Necrons: Warriors + Paints Set
, for use with
Warhammer 40,000
, on August 15.
The
Space Marines: Assault Intercessors + Paints Set
box comes with three plastic Assault Intercessors in different poses and the paints needed to properly dress them for battle. The six 12 ml paints included are Macragge Blue, Balthasar Gold, Corax White, Abaddon Black, Agrax Earthshade, and the ever-popular base color Astrogranite. The models are push-fit, only requiring clippers to assemble, and the kit comes with a Citadel Starter Brush to apply the paints.
The other paints set, Necrons: Warriors + Paints Set, features three Necron Warrior miniatures and paint color associated with the Szarekhan Dynasty. The six 12 ml paints included will be Runelord Brass, Abaddon Black, Runefang Steel, Agrax Earthshade, Astrogranite, and Tesseract Glow. These models are also push-fit, and the box includes a Citadel Brush as well.
Each of these new kits will retail for $35.00.
Games Workshop also unveiled three new starter sets for Warhammer 40,000, Recruit Edition, Elite Edition, and Command Edition (see "Games Workshop Unveils Three New Starter Sets For 'Warhammer 40,000'").
Click on Gallery below for full-size miniatures!