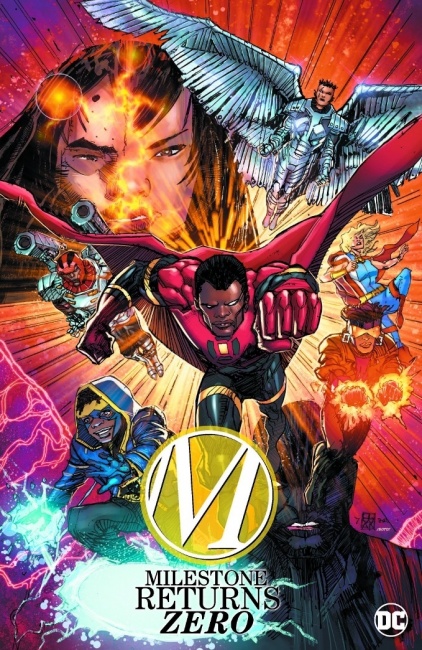 Milestone, the pioneering Black-owned comics imprint that created a universe of Black superheroes, including Static Shock, is coming back with new series featuring their original characters. DC, which published Milestone comics under an agreement with the company, made the announcement during its DC FanDome event on August 21. Milestone partner and producer Reggie Hudlin, co-founder Denys Cowan, and Static Shock voice actor Phil LaMarr joined DC publisher and chief creative officer Jim Lee for the panel.
Milestone will kick things off in February 2021 with a new
Static Shock
series that will be published digitally. In addition, Hudlin will team up with artist Kyle Baker to create an original
Static Shock
graphic novel, and Hudlin will also write a new
Icon & Rocket
series, with art by Cowan.
DC will also publish older Milestone comics digitally, and during the September 12 FanDome event, they will offer a 17-page digital sampler,
Milestone Returns
, for free for 24 hours. The sampler, written by Hudlin and Greg Pak, will be a primer on the original Milestone characters, including Static Shock, Icon, Rocket, and Duo. Cowan and Chris Sotomayor will do the cover, and contributing artists include Cowan, Jim Lee, Ryan Benjamin, Khoi Pham, Scott Hanna, Bill Sienkiewicz, Don Ho, Alex Sinclair and Deron Bennett.
During the same 24-hour period, DC will offer several older Milestone titles digitally for free, including:
Static Shock (2011 – 2012) #1
Static Shock (2011 – 2012) #2
Xombi #1
Xombi #2
Hardware: The Man in the Machine (2010)
Icon: A Hero's Welcome (1996)
Icon Vol. 2: The Mothership Connection (2010)
Milestone Media was founded in 1993 by four Black creators: Dwayne McDuffie, Cowan, Michael Davis, and Derek T. Dingle. The comics were published and distributed by DC, and after Milestone stopped publishing comics in 1997, DC made several attempts to fold the characters into the DC Universe and Multiverse, and in 2017 they announced that the Milestone imprint would return the following year (see "Milestone Reborn"), but that did not happen.

Static Shock did star in a successful animated series, and during the panel, Hudlin spoke of the possibility that Milestone characters will move into other media, including feature films, another animated series, and podcasts.

Click Gallery below for pages from Milestone Returns!