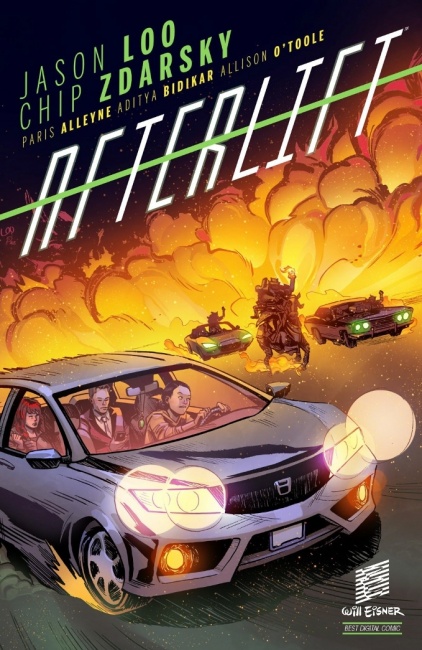 Dark Horse Comics will distribute print editions of comiXology Originals collections to retail, beginning Spring 2021, the companies announced today. As it does for its own book-format product, Dark Horse will distribute the comiXology Originals titles through Diamond Comic Distributors to the Direct Market and Penguin Random House to the book trade.
The comiXology Originals line brought exclusive new comics and graphic novels to digital customers of comiXology and Amazon, beginning in 2016 (see "
comiXology Launches Exclusive Content
"). The new program with Dark Horse will be the first release of these comics in print format. When the line was announced, the exclusive window for the digital platforms was described as "a very generous time frame," but not a permanent situation, and now the first releases are going to begin hitting retailers.
Dark Horse CEO Mike Richardson lauded the fit with the Dark Horse line. "ComiXology's line of creator-owned comics sits perfectly alongside the acclaimed creator-owned graphic novels that are the bedrock of Dark Horse Comics," he said.
ComiXology Co-Founder and CEO David Steinberger spoke of a longstanding desire to produce print editions of the company's comics. "We were always hopeful comiXology Originals books would get into readers' hands via comics retailers and book stores, and Dark Horse is a terrific collaborator to work with to do so," he said.
The Spring 2021 releases are:
Eisner Award-winning
AFTERLIFT
, collecting issues #1-#5. Written by Chip Zdarsky with art by Jason Loo. On sale February 2 in the book channel and February 3 in comic stores.
Breaklands
Vol. 1, collecting issues #1-#5. Written by Justin Jordan with art by Tyasseta and colors by Sarah Stern. On sale March 2 in the book channel and March 3 in comic stores.
YOUTH
Vol. 1, collecting issues #1-#4. Written by Curt Pires with art by Alex Diotto and colors by Dee Cunniffe. On sale April 6 in the book channel and April 7 in comic stores.
The Black Ghost
Vol. 1, collecting issues #1-#5. Written by Alex Segura and Monica Gallagher, with art by George Kambadais and colors by Ellie Wright. On sale May 4 in the book channel and May 5 in comic stores.
All four volumes are $19.99 MSRP. All are 136 pages except for
Breaklands,
which is 152 pages.
Click Gallery below for full-size cover images!