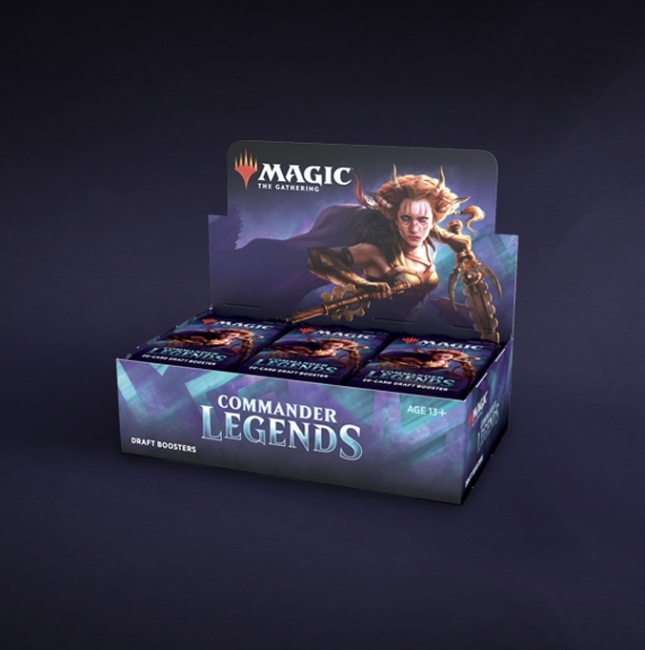 Wizards of the Coast unveiled product line details for
Commander Legends
, a new set for
Magic: The Gathering
, which will land in retail stores on November 6, 2020. They announced this product line last year as the capstone release to their "Year of Commander" (see "
WotC Unveils Four New 'Commander' Products for 'Magic: The Gathering
").
One of the most touted Magic sets of 2020 is on its way to stores for the holidays, and will feature a rich product line of various packs and decks. The sealed offerings shake out as follows:
Commander Legends Draft Booster Packs and Displays. This is the first ever draft booster designed specifically for Commander. Players can draft three packs, add in basic lands, and then play a game of Commander right out of the pack. Each pack comes with 20 Magic cards optimized for draft that includes two legendary creatures and a foil card. Cases come with six displays, and each display has 24 booster packs.
Commander Legends Commander Decks. These richly-designed decks are meant to introduce new players into the Commander format. They feature three brand-new cards each, and are chock full of reprints to make the deck run smoothly. Each decks comes with a ready-to-play deck of 99 Magic: The Gathering cards, a legendary foil commander card, 10 tokens, a deck box (can hold 100 sleeved cards), and a life tracker.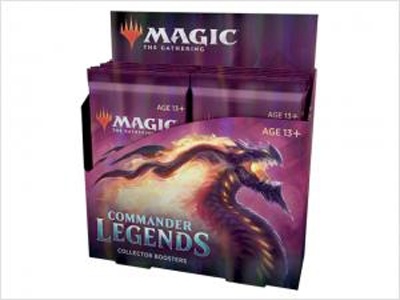 Commander Legends
Collector Booster Packs and Displays
. The Collector boosters are charged up with rares, alternate art, special card styles, and of course, foil premium cards from the
Commander Legends
set. These packs come with 15 cards and a foil token, and they are packed in displays of 12 boosters. Cases come with 6 displays.
Along with the product information, Wizards of the Coast also spoiled some the mechanics and card images included in the new set. The set draft boosters are optimized for limited Commander play, and feature legendary monocolor creatures that have the Partner mechanic to make draft format gameplay gel seamlessly. The set has over 100 legendary creatures to open, making the possibilities for deck construction vast.
There are two additional selling points for this product. This set features etched foils, a new foiling process for Magic: The Gathering cards. Etched foiling gives the foil cards depth and makes the art within the frame stand out. Also, this set offers up the enemy-colored versions of the multiplayer dual lands, a land cycle first seen in the Battlebond set (see "'Magic: The Gathering - Battlebond' Unveiled"), as well as a borderless version of the staple Command Tower card. This is an incredibly desirable land base, and will likely be a driver for sealed product and singles sales.
Click on Gallery below for packaging images of the products and spoiler cards!