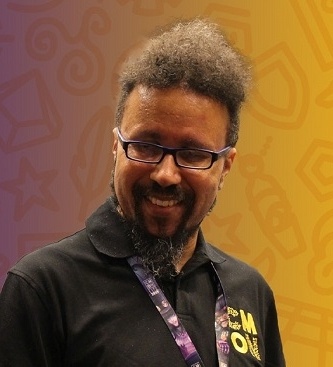 Premier game designer Eric M. Lang is stepping down from his role as Director of Game Design of CMON Ltd. on September 1, the company announced. Lang plans to focus on freelance game design and his growing involvement with activism. He leaves CMON with a long-term plan in place. "Over the past few months, we drafted a long-term release plan with some truly great titles, which will continue to bear fruit for many years to come," he said. "Now felt like the right time for me to return to my roots; focusing on game design and public advocacy for our amazing hobby."
Lang joined the company in early 2017, after 20 years as a successful freelance designer for multiple top-tier companies (see "
Designer Eric M. Lang Joins CMON
"). As he joined the company, he noted the importance of making the hobby industry more inclusive and accessible, a goal on which he continued to work during his time at CMON.
Among the Lang-designed games in the CMON pipeline are tabletop adaptations of
Cyberpunk 2077
, a
Blood Rage
sequel, a family game co-designed with Mike Elliot codenamed
Barrrge
, along with over a dozen other projects in various stages of development.