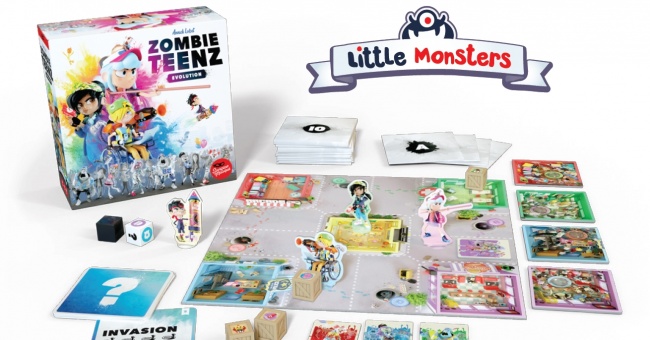 Iello USA revealed
Zombie Teenz Evolution
, a sequel board game to
Zombie Kidz Evolution
by Scorpion Masque (see "
IELLO Fall Game Round-Up
"), for release on November 12.
Zombies are terrorizing the town, and a few teens have been charged with finding four ingredients that can create an antidote which will turn the zombies back to people. This stand-alone game is completely compatible with the original, but features double the content of the other game. It also offers more strategic gameplay than the first game, and the content is more varied.
The game box comes with a Town board, 4 Hero tokens, 4 Zombie Horde tokens, 4 Overrun Building tiles, 4 Ingredient Crates, a white die, a black die, 6 Event cards, 10 Evolution envelopes, 4 Accomplishment envelopes, 11 plastic supports, a rulebook, and a sticker sheet. This game is for two to four players, ages 8 and up, plays in 20 minutes, and retails for $24.99.