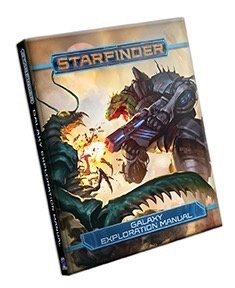 Paizo, Inc. unveiled
Starfinder Galaxy Exploration Manual
, a new rulebook for
Starfinder RPG
, for release in Q2 2021.
The Starfinder Galaxy Exploration Manual opens up worlds of infinite space for discovery in games of Starfinder RPG. This rules expansion is focused on galactic exploration, and contains rules for creating sci-fi planets, asteroids, satellites, and colony ships. It also has new class options, a character background generator, new equipment, and details on 12 different environmental biomes.
This book will retail for $39.99.
Paizo, Inc. also announced the Alien Archive 4 for release in November of 2020 (see " Explore New, Bizarre Alien Life with a New 'Starfinder RPG' Rulebook").