Luma Imports will release
Vampire: The Masquerade - Vendetta,
a deduction game by Horrible Guild, in Q1 2021.
Vampire: The Masquerade - Vendetta
is a competitive card game of strategy and deduction. Players take roles as leaders of one of the Camarilla clans of Chicago as they try to seize control of the city. Players will play cards and blood at locations around the city to gain human and Kindred allies. Each round will give players new cards with new abilities that they can play either face up to show their intentions or face down to hide their strategy to deceive their opponents. The game ends at the end of the third round and the player with the most influence becomes the new Prince of Chicago. The game includes 115 cards, 32 tiles, 95 tokens, and a rule book.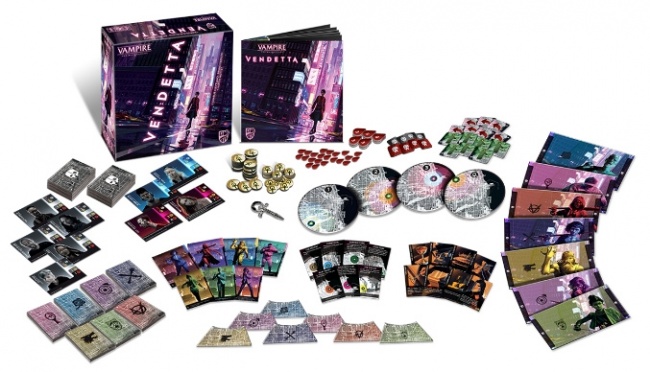 Vampire: The Masquerade - Vendetta
is for 3 to 5 players, ages 14 and up, and plays in 30 minutes. The game will retail for $34.99 when it releases in 2021.
Luma Imports will also release Horrible's
Poisons
later this year (see "
Kill the other guests in 'Poisons'
").