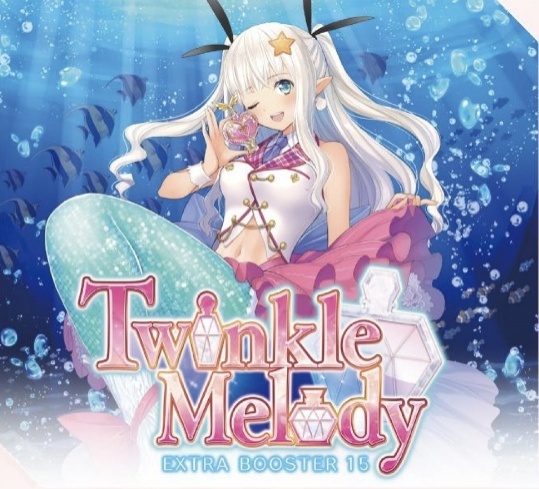 Bushiroad will released
Cardfight!! Vanguard: Twinkle Melody
on January 22.
Twinkle Melody
will feature the Bermuda Triangle clan, including popular unites such as "Olyvia", "Ange", and "Vert". The new set will include cards to strength "Riviere", "Coral", "Pacifica", "Highlander", and "Melody" decks. Some units will be featured in "Swimsuit" variants and Original Costume Rare (OCR) cards that depict units in new illustrations in classic outfits.
Twinkly Melody
contains 50 types of cards (44 new cards and 6 reissues), including 1 LIR; 4 VR; 7 RRR; 8 RR; 13 R; and 17 C. The set will also contain various Parallels (1 ASR, 26 SP, and 6 OCR) and one type of marker. Each display box will include a RR Sentinel Trigger "Glittery Baby, Lene" and a bonus clan dice in an exclusive color. Each booster pack includes 7 cards, with two cards in every pack being a R or above. Displays include 12 booster packs, and each carton contains 24 displays.
Stores will be able to host a preview weekend January 15 - January 17 by purchasing a
Twinkle Melody Sneak Preview Kit.
Each kits is designed to support 8 players and contains two premium rubber playmats (1 design), 8+1 exclusive PR card, and 39 booster packs. Each player will receive four booster packs with the remaining seven packs used as prize support for winning Cardfighters.
Twinkle Melody
follows the December release of
Divine Lightning Radiance
(see "
'Cardfight!! Vanguard' Illuminates 'Divine Lightning Radiance'
").