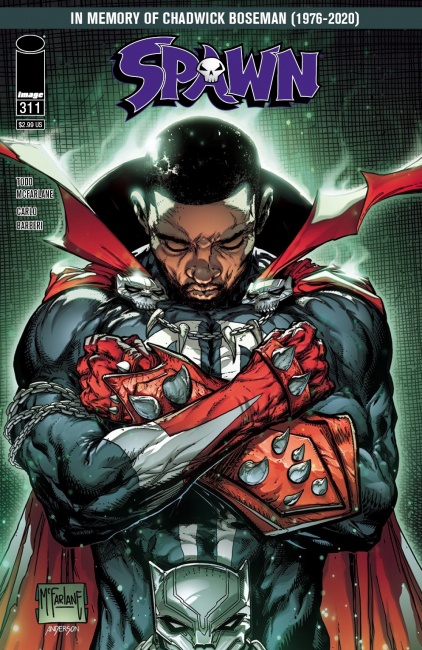 Image Comics announced that
Spawn #311
will feature Chadwick Boseman on a variant cover, rendered by
Spawn
creator Todd McFarlane.
On Spawn #311, McFarlane will pay tribute to the late Boseman, who was renowned for his role as the Black Panther character in the MCU films (see "'Black Panther' Roars to 2nd Best MCU Opening Ever"). McFarlane had the following to say about Boseman's legacy:

"Chadwick Boseman is a person who honed his skills and then made a career using them. Then he fought a fight against his own body that showed the true spirit of this man. We should all admire the traits Chadwick shared with us. And the inspiration he gave to millions of children around the globe who got to see a strong, meaningful and proud hero that looked like themselves." said McFarlane.
Spawn #311 will be written by Todd McFarlane with art by Gerardo Zaffino. It will feature 3 covers: Cover A by Francesco Mattina, Cover B by Todd McFarlane, and Cover C by Gerardo Zaffino. It will retail for $2.99 and be available at comic book shops on October 28.
Click of Gallery below for full-size images!