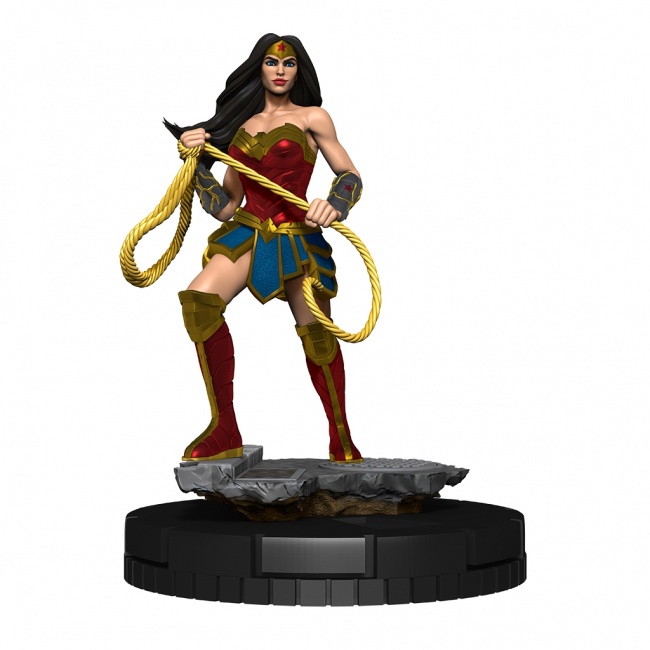 WizKids will release
DC Comics HeroClix: Wonder Woman 80th Anniversary
set in April 2021.
Wonder Woman is one of the most iconic DC Comics characters of all-time, and WizKids is celebrating her 80th anniversary with a new set of HeroClix. This set will feature a DC Comics HeroClix Battlegrounds boxed-set that is designed as an introductory set for two players. The game box comes with 10 HeroClix figures, 20 HeroClix Character cards, 18 Object and Terrain tokens, 4 full-color maps, 2 six-sided dice with the Wonder Woman logo, a HeroClix Powers & Abilities Card, a HeroClix Core Rulebook, and a Scenario/Campaign Rulebook. It will retail for $39.99.
Along with the new Battlegrounds, WizKids will release its standard HeroClix line up of products for a new set. There will be a Booster Brick that features 80 figures and equipment including 12 Chase figures. Each booster pack comes with 5 pre-painted figures, and each brick will retail for $149.90.
This set will also feature a Play at Home Kit for release day. The kit comes with a Limited Edition Wonder Woman figure with its character card, a Invisible Jet Clix FX Bystander, and double-sided map to play on. Each kit carries a MSRP of $9.99.
WizKids also revealed Marvel HeroClix: Fantastic Four Future Foundation set for release in February 2021 (see "WizKids Reveals 'Marvel HeroClix: Fantastic Four Future Foundation' Set").
Click on Gallery below for full-size images!