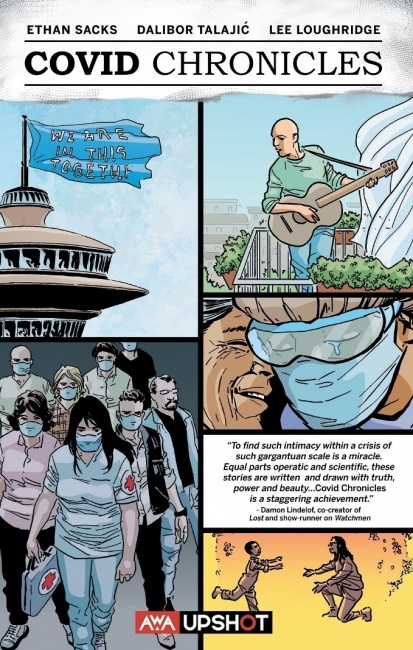 In December, Artists, Writers, and Artisans will release
Covid Chronicles
, a 144-page collection of real-time journalism of the COVID pandemic ($9.99). The ten true stories from journalist Ethan Sacks (
Old Man Hawkeye
), with art by Dalibor Talaic and colors by Lee Loughridge, were originally reported and produced on the fly by AWA as the COVID pandemic began, and published by NBC News on its website through the spring and summer. Now they are being collected and offered in single volume in some of the first journalism on the pandemic to reach bookshelves, earning a cover blurb from Damon Lindelof.
AWA, financed by an initial $12.5 million round and led by former Marvel executives Bill Jemas as CEO and Axel Alonso as Chief Creative Officer, was launching its first comics when the pandemic hit (see "
AWA Announces First Comic Titles
") and quickly pivoted to other ways to reach an audience.
We were able to connect with AWA CCO Axel Alonso to find out more about this unique project.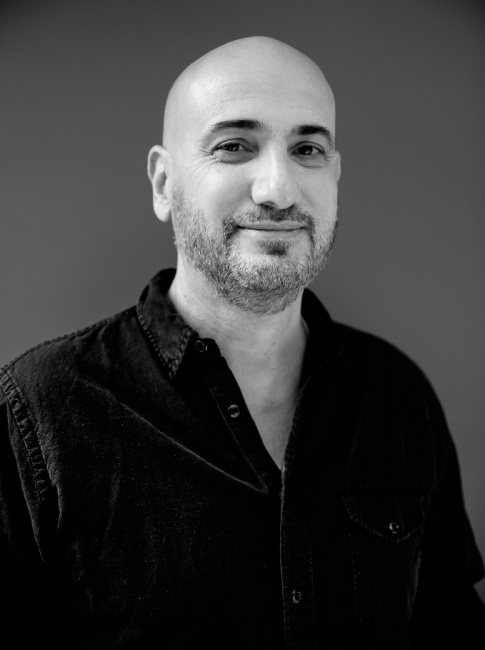 ICv2: Can you tell us a little bit about the genesis of Covid Chronicles?
Axel Alonso
: Yes. On our comic book line, our first five titles landed in comic book stores the week of the quarantine, the week of the shutdown. What we saw that was happening was that people couldn't get to the comic book stores to pick up the content. We decided at that point that we were going to release our books in vertical scroll format for free, and put them online for people to read, so they can see how good they are, and then get some buzz going.
Concurrently with that, we're talking about getting more digital stuff out there. That's when I called a meeting. I said, "You know what we should do? We should do stories of real-life people in the pandemic." I'm a reporter and Ethan Sacks is a reporter; I have a masters in Journalism.
When I was at Marvel, one of my favorite projects was a book we did called Madaya Mom with ABC News. They had an embedded reporter in Syria who was filing dispatches, and we had an artist, Dalibor Talajic, illustrate the dispatches and we released them. They released them on ABC.com, and it went over very well.
Essentially, we went where cameras couldn't. We were able to do journalism where cameras couldn't. I said, "Let's do that here. Right now, no one is really able to get out into the street to report. So, let's get out there."
I called Ethan Sacks, who I had worked with at Marvel, who like myself is a reporter, and we spoke about it. He loved the idea, so he started doing the reporting. We found people from all around, and found their individual experiences with being at the front lines of the pandemic.
The advantage was that we didn't need to send camera crews out there. We could talk with people, get them to provide us with the art reference. We could get the stories out there. It's small stories of big heroes.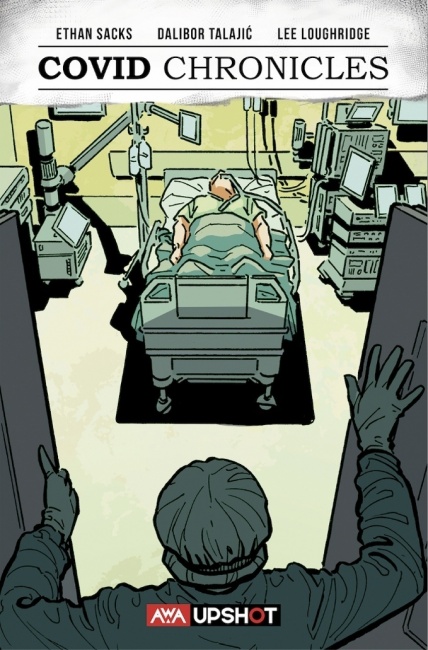 Was it envisioned as a web-first series?
Axel
: Yes. We wanted to get it out. No one had any idea how long the industry would be shut down. No one had any idea about how long the stores would be shuttered. If you remember just a few months back, DC and Marvel shut down; the biggest publishers shut down. The thing was, what's going to happen?
We decided that we wanted to make sure that we were making content, and we were going to use the one platform we could, digital, to do that. We went to NBC News. We said, "Look at what we've got. This is really cool.," and they said, "Yes, we want to run this."
It was huge with their reach. They got behind it; they put it on NBC.com for their 100 million plus viewers to read for free. We saw it as a good thing to do the public service. We could do something good here.
We did that, and then we had about five of them done. I realized that with very little extra work we could reformat them, color them, collect them in a trade. We decided to do that.
We created 10 full episodes. We went to Lee Loughridge, the colorist, to color all the stories that ran black and white online. We reformatted them to put them into the book, all of them with special features.
You've gone both ways with webtoons: you've adapted print material to webtoons, and you've adapted material created for the web to print. That whole attempt to go back and forth between those two formats hasn't been done much before. Can you tell us about that?
This is a very elastic medium, and we're also a very small company. We don't have a lot of layers of bureaucracy that you can see. We're able to be very agile, make decisions quickly, and get things done.
We decided we were going to do the reporting. We did it. We saw it looking good. The moment you saw that you could convert the digital scroll comic books to print we just said, "Let's do it." We decided, look, if we're going to that, we might as well color it, make it into a big beautiful book, so it will be different, a higher production value than the web comic book. Really it just comes down to, we have a very elastic medium. This medium is only limited by your tastes and your tones. You can do anything, including reporting.
We decided, let's do it, and the rest is history. I'm very proud of this book. I think it's very important. It tells 10 amazing stories.
I look forward to doing a lot more of these. I think
Covid Chronicles
is just the tip of the iceberg. Again, I think that comic books are a unique art form, it's a very unique medium to be able to go, again, where cameras can't.
As a former reporter, I know the dangers, how hard it is to get to certain spots to even get the story, how hard it can be to get people to talk on camera. Again, I think that we have a unique opportunity here. We're going to keep taking it.
Click Gallery below for full-size front and back cover, and credit page!