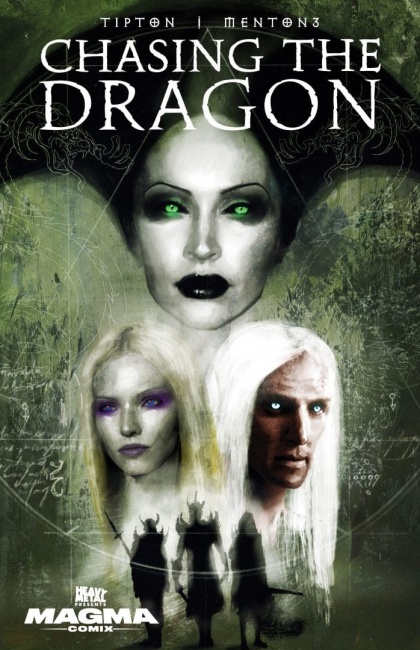 Heavy Metal Media unveiled three new titles that are part of the Magma Comix launch, a line owned by Denton J. Tipton.
Heavy Metal Media has partnered with the former Senior Editor of IDW Publishing Denton J. Tipton (see "IDW Publishing Announces Editorial Promotions") to release a new line of comics under the imprint Magma Comix. Their first three titles will be Chasing the Dragon, Amber Blake: Operation Dragonfly, and The Modern Frankenstein.
"To me, ​Heavy Metal​ represents unbridled creativity," says Tipton. "From Moebius and Bilal to Wrightson and Frazetta—and so, so many more—​Heavy Metal​ is a true champion of creators. It's an honor to be part of that legacy, and I promise to uphold its standing as the leader in science fiction, fantasy and horror."
Chasing the Dragon​ is a comic mini-series actually authored by Denton Tipton with art from ​Menton3. It gives readers a glimpse into a dark fantasy world where the blood of dragons is made into a drug and abused. The first of five issues will arrive on February 24.
Amber Blake: Operation Dragonfly will be a sci-fi thriller graphic novel by Jade Lagardere and Butch Guice. It recounts the tale of a covert op agent who is dead set on ending underground human slavery, and will arrive March 31. The Modern Frankenstein is comic mini-series that offers a new take on Frankenstein lore set in a modern era. It is penned by ​Paul Cornell​ with art by ​Emma Vieceli, and the first issue will hit stores on April 28.
Click on Gallery below for full-size images!