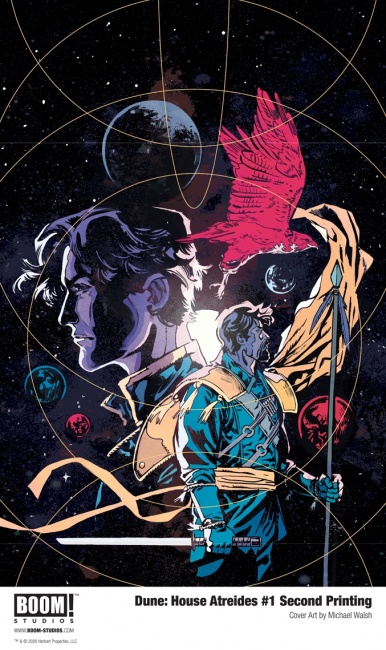 BOOM! Studios announced that
Dune: House Atreides
#1 is sold out on the distributor level, and a second printing is coming soon.
Dune: House Atreides #1 has sold out before its release on October 21 (see "Preview: 'Dune: House Atreides' #1"). This 12-issue limited comic book miniseries, penned by Brian Herbert and Kevin J. Anderson, is already onto its second printing which is scheduled for November 11.
"We can't wait for fans in comics shops worldwide to hold the first issue in their hands, and the second printing will give everyone a chance to join the epic story all the way at the very beginning," said Filip Sablik, President, Publishing and Marketing.
The second printing also features two brand-new covers by Michael Walsh and Evan Cagle.
BOOM! Studios will also release Power Rangers: Sins of the Future GN on October 28 (see " Preview: 'Power Rangers: Sins of the Future' GN").
Click on Gallery below for a full-size image of the second printing cover!