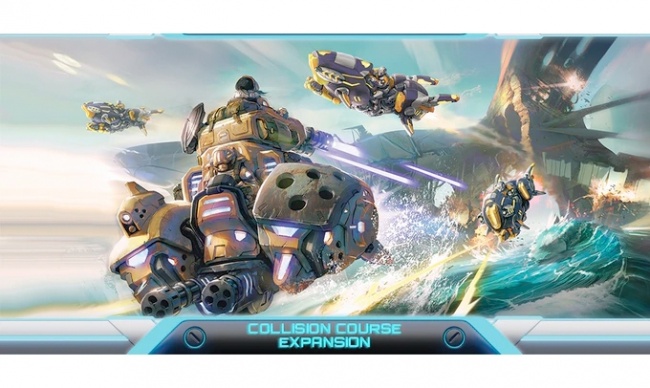 Privateer Press has announced
Collision Course
, the first expansion for its science fiction miniatures wargame
Warcaster: Neo-Mechanika
, introducing a new faction, new vehicle rules, and new units for all existing factions. The company is seeking funding for the new expansion through a Kickstarter campaign, with fulfillment scheduled for April.
In the newly launched Warcaster: Neo-Mechanika, (see "Privateer Announces Trade Release for 'Warcaster'"), players assume the role of "Warcasters," individuals who have the ability to channel "Arcanessence" to control and enhance their war machines. Battles are fought over the "Hyperuranion," a complex of a thousand worlds linked by transdimensional protals. Now the creators of the Hyperuranion, the Empyreans, have emerged from their slumber to eliminate the upstart humans and restore their eons-old cosmic balance.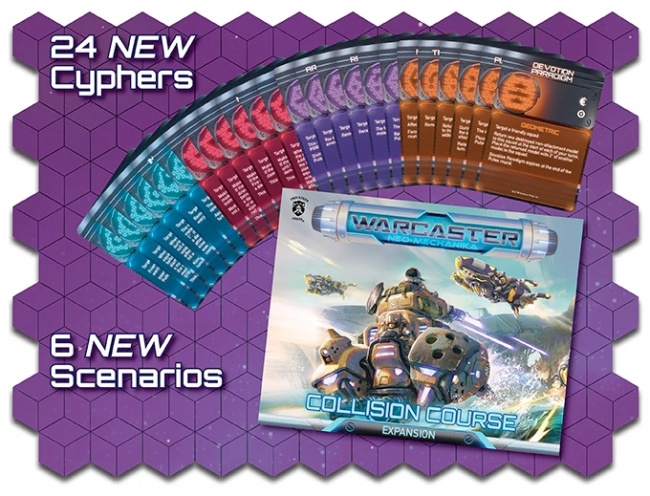 The
Collision Course
rules booklet adds the high-tech warriors of the Empyreans to the game, with expanded lore covering the faction and the
Warcaster
world. It also features new rules for vehicles and "Race Mode," a way of playing the game that focuses on high-speed running vehicle battles. Six new scenarios and two dozen new Cypher cards round out the expansion set.
In addition to the expansion, new models for the Empyrean faction and new vehicle models for the three existing factions will be released.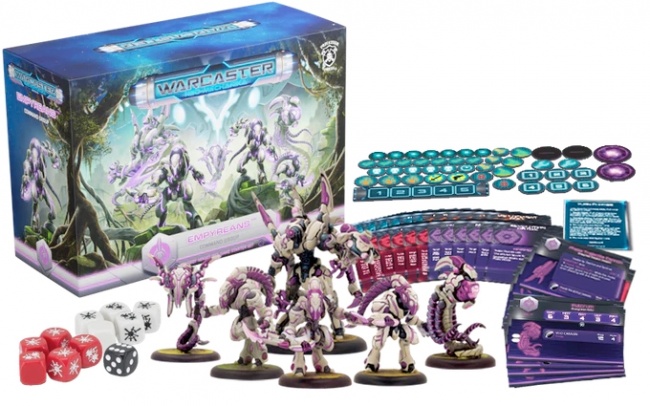 An
Empyrean Command Group Starter Set
will be offered that includes 1 Daemon Warjack Chassis, 2 Daemon Head options, 5 Daemon Weapon options, 2 Solos, 3 Saber Strike Force troopers, 46 cardboard tokens, 36 cards, 11 dice, and game rules. Additional Empyrean units will be available separately.
Trade release dates and MSRP information has not been announced.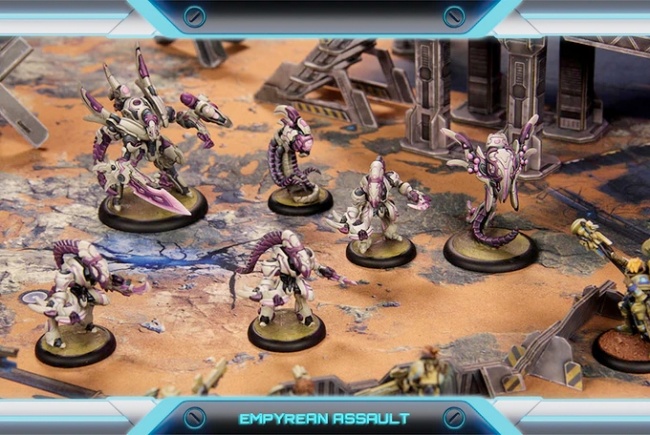 Privateer is raising funding for the production of
Collision Course
and the new models through a Kickstarter campaign that easily passed its $75,000 funding goal in the first hour. The campaign features two retailer-only funding options, both with a small upfront buy-in and a 50% off MSRP offer. The small package includes 4
Collision Course
expansions, 2
Empyrean Command Group Starter Sets
, and 2 each of the four faction vehicle models. The larger package comes with 12
Collision Course
, 6
Empyrean Command Groups
, and 6 of each vehicle. Stores that back the campaign will also receive copies of the Stretch Goals and "Quartermaster" add-on models. Campaign backer fulfillment is planned for April 2021.
Click Gallery below to see 3d renders of models included in the campaign.
The original game was also funded through a Kickstarter campaign which attracted $459,633 in pledges from 2,330 backers (an average of $197.27 per backer).
Next month, Privateer will release a wave of add-on miniatures for the game (see "'Warcaster: Neo-Mechanika' Calls in New 'Squads'").