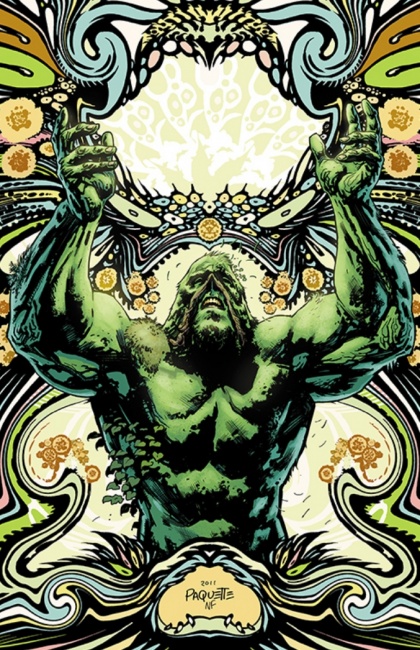 DC Comics will release
Swamp Thing: The New 52 Omnibus
on March 23.
The planet's safety has depended on a balance of three great powers since the dawn of time. The three great powers are the Green, the force that unites all plant life; the Red, the force that unites all animal life; and the Rot, the force of death. Dr. Alec Holland is the Green's newest champion, but he has no interest in the role. As the Rot's avatar grows stronger, there might not be any Green left to protect if Swamp Thing doesn't return.

Swamp Thing: The New 52 Omnibus is a 1,160-page collection, featuring stories written by Scott Snyder, Jeff Lemire, Charles Soule, and more; with art by Yanick Paquette, Jesus Saiz, Marco Rudy, Kano, Francesco Francavilla, Becky Cloonan, Steve Pugh, and others. The omnibus collects Swamp Thing #0-40, #23.1; Swamp Thing Annual #1-3; Swamp Thing: Futures End #1; Animal Man #12 and #17; and Aquaman #31. The collection features a cover by Paquette and will retail for $125.00.

DC Comics recently announced a New 52 Batgirl omnibus (see "Gail Simone's 'Batgirl Returns' Collected into Giant 960-Page Omnibus").

Click on Gallery below for full-size images!