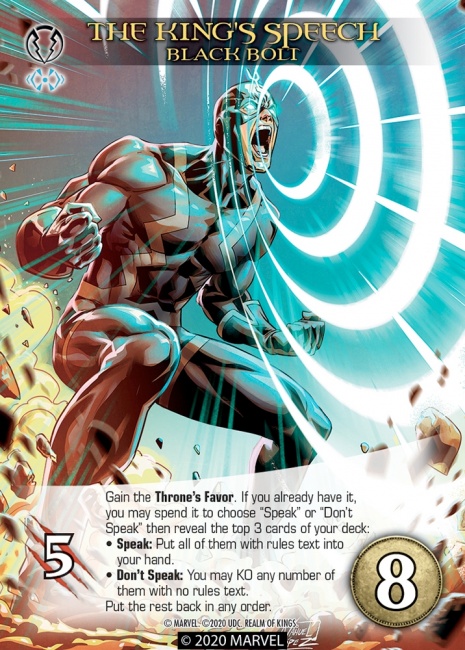 Marvel's Inhumans and their royal family will be the focus of the
Legendary: Realm of Kings
expansion releasing from Upper Deck on October 28.
Legendary: Realm of Kings explores the political infighting within the Inhumans' palace in the hidden lunar city of Attilan as well as the kingdom's struggles with the space empires of the Kree and Shi'ar. The set will feature two new game mechanics:
The first, called "Throne's Favor," allows players to compete for control of a token that grants some characters special benefits or abilities. Only one player may have the Throne's Favor at a time, taking it from their rival if necessary.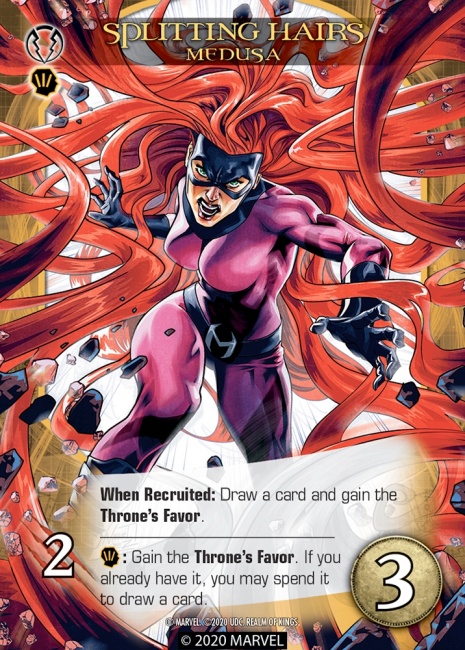 The second new mechanic is the "When Recruited" ability that some new characters have. These abilities trigger immediately when that character is recruited from a player's HQ.
In addition, cards in this set will feature the "Teleport" and "Abomination" abilities from previous sets.
Click Gallery below to see cards from the set.
MSRP is $19.99.
Earlier this year, Upper Deck released the Into the Cosmos expansion (see "'Legendary' Reaches 'Into the Cosmos'"). Marvel Legendary is a solid seller for the company, pegging the number 3 spot on ICv2's list of top-selling hobby channel card games this spring (see "Top 10 Hobby Channel Card/Dice Games--Spring 2020").