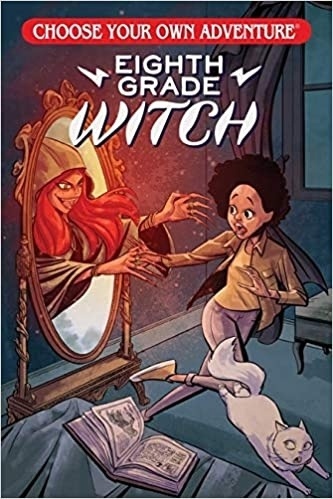 Oni-Lion Forge Publishing Group will publish Choose Your Own Adventure graphic novels under license from property owner and interactive book publisher Chooseco, the company announced. The graphic novels will be adaptations of the interactive books published by Chooseco.
The first release in the series, by E.L. Thomas, Andrew Gaska, Valerio Chiola, and Thiago Ribeiro, will adapt
Choose Your Own Adventure: Eighth Grade Witch.
The 144-page volume will be released on August 24 in the book channel and August 25 in the comic channel at $12.99 MSRP.
The second volume in the series will be
Choose Your own Adventure: Journey Under the Sea
.
Chooseco was formed in 2005 to bring the book titles, which sold over 250 million copies between 1979 and 1998, back into print and license the property into new media. Z-Man Games licensed the property for tabletop games and launched a series of releases in 2018 (see "
'Choose Your Own Adventure; Game
").