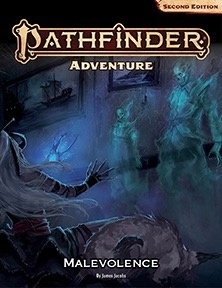 Paizo, Inc. announced
Pathfinder Adventure: Malevolence
, a new standalone adventure for
Pathfinder RPG
, for release in Q2 2021.
Malevolence is a horror adventure for Level 3 characters that features new monsters, mysterious magical items, and spells. The adventure revolves around a haunted house that players can explore to find out the truth about the mansion. This story is good-old fashioned ghost investigation that tests the heroes' bravery at every turn.
This adventure will retail for $22.99.
Pinnacle Entertainment Group and Paizo, Inc. recently announced Pathfinder for Savage Worlds for release in Q4 2021 (see "Pinnacle and Paizo Team Up for 'Pathfinder for Savage Worlds'").