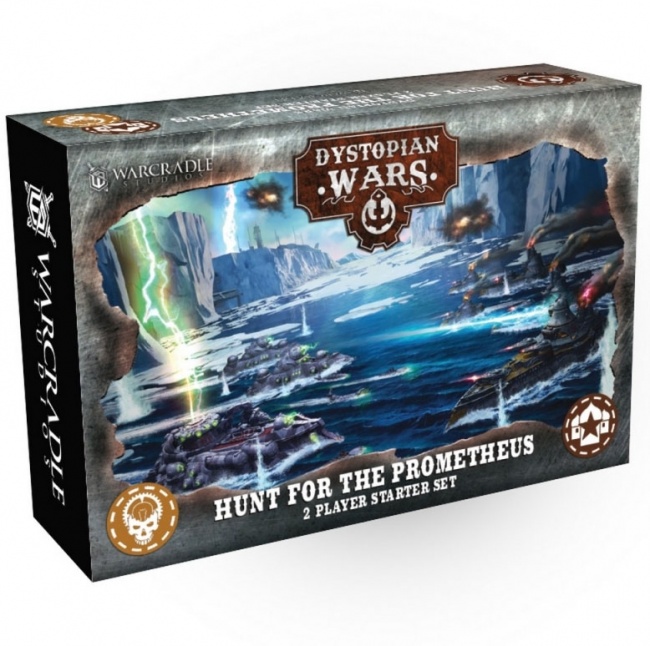 Warcradle Studios announced
Hunt for the Prometheus
, a two-player starter set for
Dystopian Wars
3E
steampunk-themed naval battle game, which will release on January 30, 2021.
Dystopian Wars is a tabletop naval battle game system that was originally released into the U.S. market by Spartan Games in 2011 (see "'Dystopian Wars'"). After a revision of the rulebook in 2012 (see "'Dystopian Wars 1.1'") and later a successful Kickstarter for an expansion that raised $181,000 with 858 backers ($210 per backer), Warcradle Studios acquired the game system from Spartan Games after their company abruptly closed up shop in 2017. A year later, Warcradle announced a beta test for an updated 3E rules set (see "Warcradle Studios Building Dystopian Age Universe"), and in 2021, they will release this new starter set for Dystopian Wars 3E.
The 3E starter set, Hunt for the Prometheus, features several highly-detailed resin and plastic miniatures as well as enough dice, cards, and tokens needed to play the game. It also contains a new rulebook and a campaign book which allows hobbyists to quickly pick-up-and-play. The plastic resin miniatures included in the starter set come unassembled and unpainted.
The game box contents includes a Descartes Class Control Ship, a Hypatia Class Generator Ship, 3 Copernicus Heavy Cruisers, 9 Merian Class Drone Frigates, a Borodino Class Battleship, 5 Kutsov Class Cruisers, 10 Rurik Class Frigates, 2 Victory & Valour card decks, a template set, 40 Action dice, 12 Critical dice, 2 Condition token sets, an Icebergs & Physeter Constructs token set, the new rulebook, and a campaign book.
Hunt for the Prometheus will retail for $113.98.
Click on Gallery below for full-size images!