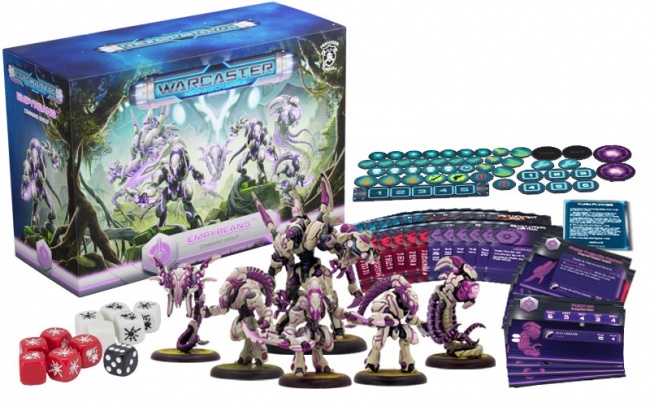 Privateer Press has released more details about the upcoming
Empyrean Command Group Starter Set
and the
Collision Course Expansion
for its
Warcaster: Neo-Mechanika
tabletop miniatures game, both releasing in April.
Announced in October (see "The Empyreans Invade 'Warcaster: Neo-Mechanika'"), these releases introduce a new faction to the game: the ancient creators of the Hyperuranion known as the Empyreans. Their robotic legions, led by the once-mortal Aeons, have left their world of Cyriss Prime to force their vision of order back upon the galaxy through a combination of technological mastery and the arcane arts.
The Empyrean Command Group Starter Set includes everything that one player needs to play the game, including a copy of the Warcaster: Neo-Mechanika rulebook, a complete fighting force with six unpainted models, 11 dice, and 33 cards. The models included in the set will be the Daemon A light warjack, a 3-model Saber Strikeforce squad, one Oculus solo and one Fulcrum solo. Some models require assembly. MSRP is $69.99.
Click Gallery below to see models from the set.
The
Collision Course Expansion
offers expanded lore for the Empyrean Faction, new short fiction, and new rules for the game, including rules for vehicles and new rules for mantlets. Also featured are six new scenarios and 36 Cypher cards including faction-specific Cyphers. MRSP is $9.99.
March will see new models for Monsterpocalypse (see "Privateer Press Unveils Two New 'Monsterpocalypse' Starter Sets").