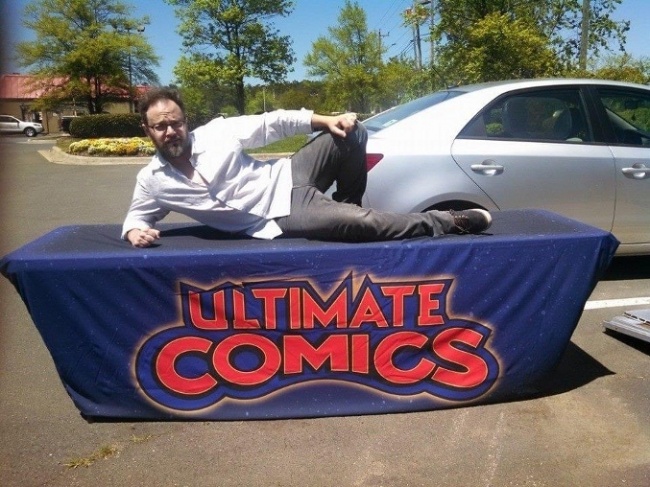 In Business 3x3, a business retailer or executive will share their experience with three things they've done right, three things they've done wrong, and what else they've learned along the way.
Alan Gill had a choice not everyone has been faced with.
"I had to make a decision," he says. "Was I going to do comics, or was I going to do frozen yogurt?"
It was 2004, and after a stint in the navy right out of high school, Gill got a food service job at TCBY in Florida. He worked his way up the company ladder, eventually taking an offer to supervise 12 TCBYs in North Carolina. He ended up buying two TCBY franchises of his own, in Chapel Hill and Durham. The Durham franchise was in a strip mall with a 600 square-foot empty spot literally next door just crying out to become a comic store. Gill took the plunge and Ultimate Comics was born.
"It instantly took off," he says. "Within two years, I opened my second store, and the year after that, I opened my third store. That little 600 square-foot store was a monster."
Gill's stores today are in Durham, Cary, and Raleigh. He's just remodeled the greatly-expanded Durham store, and in the last 17 years, he's opened stores, closed stores, partnered up with other stores, and come back from the dead (more on that below, natch). So yeah, you could say he's learned a lot…
THE GOOD
HIRE WELL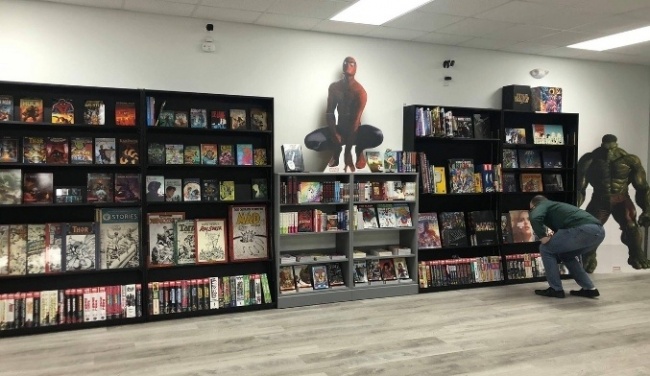 As always, it's easy to say and tougher to do, but Gill is convinced he's hired well. Sorting for work ethic is his key, and good fortune helps, too.
"My superpower is luck, and I've hired really well," he says. "My staff is extraordinary. I can spot good character."
Gill typically takes a lot of time to spot a candidate, and it's often someone he's seen a lot over the long haul.
"I almost always hire customers," he says. "The great thing about hiring customers is you've already had an extended interview process. Every customer I look at for a very long time, I always look at as a potential employee."
Gill looks for character, and more importantly, willingness to put in the work.
"The one thing you can't train is work ethic," he says. "I think I have a good eye for that. If I miss, I weed that out pretty quick. If we don't share the same work ethic, it's just not going to work."
DON'T HIRE A CLUBHOUSE
Well before "diversity" became a watchword, the Ultimate Comics stores were already populated by a diverse staff. It's by Gill's design.
"I'm a 50-year-old white male, not abnormal for comic book guys, I guess," he says. "But I have not hired a bunch of like guys. I don't want my stores to be clubhouses that look like just one group of people who look like me."
The march started when Gill went outside his comfort zone into a product area where he needed help.
"I wanted to start carrying manga, so I had to hire someone who knew manga, because otherwise it could wind up being a lot of expensive guesses," Gill remembers. "So the manga person I hired was a customer, who just happened to be female. It was a super-organic process to start, and looking at my staff today, it is incredibly diverse."
Gill is never shy about putting the best person for the job in leadership positions, either.
"There was a point where all the managers in my stores were women," he says. "My second-in-command, Siena Fallon is…the…absolute…best. She knows comics and the comic industry probably better than me. It's all worked out well. Hire the best people you can; good things will happen."
COLLABORATE: DON'T COMPETE
It took him a while to come around to this way of thinking (see next item!), but Gill sees great value in the open-hand approach.
"Working with other stores, we're doing more of that," he says. "We order stuff together to make it more affordable. Comic supplies from BCW, we can all make a little bit more money by ordering bigger together? Great. Let's do that."
Gill's collaborations can get huge. Ultimate's Raleigh store is a great example.
"When I opened that up about 3-4 years ago, it was fairly close to another store that I work with, that I have a good relationship with," he says. "So I went to them and said, 'Hey, guys, I am opening up a store that is real close to you. I think we do things different enough where it's probably going to be fine, but I wanted to come and tell you, face-to-face.' I didn't want bad blood. And they were really cool about it. They came out to my grand opening, they even brought a cake; it was great. Just, you know, friends."
Friends became partners when logistics came knocking.
"Their lease came up last year and I was starting to have a little bit of a problem managing everything, so I went to them with a wacky idea," Gill says. "I said, 'What do you think if we team up? What if you guys move into my store, and we just split it. They were like, 'That is a crazy idea. Let's do it!'"
The Raleigh store carries the Ultimate Comics name, but is a separate business owned 50/50 by Gill and his partners.
"They came in, they're operating it, they brought their customer base, and it's been a monster of a store," Gill says. "Before we were both doing okay. Now we're both doing great. We're about a year into it, and we're all real happy."
THE BAD
DON'T GO TO WAR
Collaboration took a while. In his early days, Gill was… more aggressive.
"I saw all my competitors as… competitors," he says. "If you were selling comics, I was gunning for you. But what I didn't realize at the time was that comics are a community, and comic fans - my customers! - didn't like that."
Gill has realized his error, and recognizes he could have looked to his own personal experience.
"Just like me, when I was shopping for comics back in the day, I went to multiple stores; that was part of the fun," he says. "But I forgot that. I lost that knowledge when I first opened up, and I made some enemies off that. I think I've rectified all that. I've been doing comic retailing for 17 years now, and I don't look at it like that anymore. But the first six years… I was kind of an asshole. I started little quote-unquote 'wars.' I know now they were bad moves, but at the time, I saw it like 1980s wrestling."
WATCH YOUR DISTANCE!
Gill knew from the jump he wanted to have multiple locations. But the spacing of those locations took some trial-and-error. It required Gill going from three stores back to one before he could expand to three again.
"My stores were too close to one another. I closed them and consolidated in one bigger spot," he says. "That was good for me for a while, I became much more profitable. I just had my distances off to start. They were all too close to each other, maybe within 10 miles."
Again, it was Gill's own customers who tipped him to the fact that he was off.
"If I didn't have a product at one store, I'd tell a customer, 'Hey, I'll get that transferred over for you from the other store.' They'd almost always say, 'Oh, I'll just drive over there and get it.' That was the 'wait a minute!' moment for me. It was too close."
Gill's stores are now about 20 miles distant from each other, and things are working well.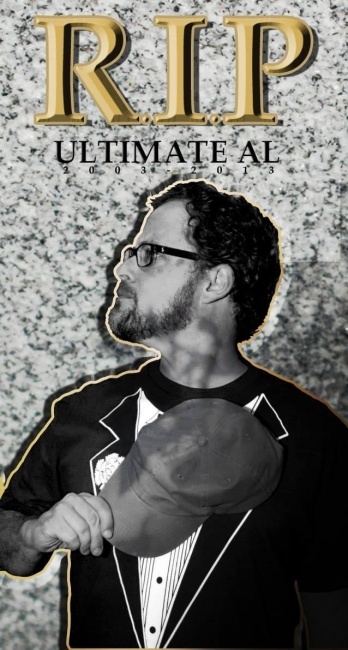 DON'T FAKE YOUR OWN DEATH
It seems obvious, right? Well, we can all get caught up in the moment…
"One of my not-so-good promotions… I faked my own death," Gill says. "I thought it would be fun. I thought I'd do it like Superman, 'The death of Ultimate Al.' That morning, I had Ultimate Comics T-shirts for sale with the dripping, bloody logo, and we had a black velvet painting done up of me as Superman."
Alas, not everyone got the joke.
"I didn't know how anyone could fall for it, but unfortunately a feeeeew people thought it was real," Gill says. "So three days later I came back for a big sale that Saturday wearing a black unitard, and I had a mullet wig on, I mean… how much more irresponsible could I have been? It looked good on paper, but when just one or two customers come up to you and say, 'Hey, man, I really thought you were dead…,' well, sorry. I promise, never again."
The black velvet paintings have lived on (see below). And so has Gill.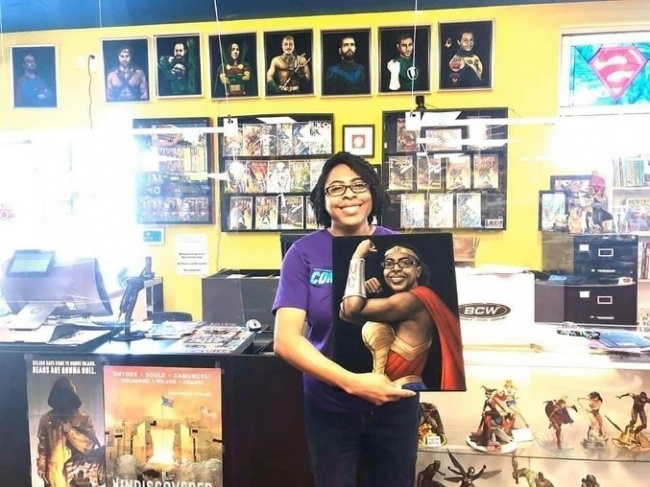 AND WHAT ELSE?
"I do these black velvet paintings of longtime employees as superheroes now. It's nice, some recognition and a way for us all to take away something cool from that event."
"Four years in the navy was enough, but sometimes I think… if I would have stayed in I would have done 20 by now, I'd have a paycheck for the rest of my life and I could have still done comics, right?"
"The experience at TCBY taught me 'more.' In food service, you're always looking for the next market. I came knowing that I wanted to do that, multiple stores."
"Work ethic is the one thing I have. I mean, I barely made it through high school. I'm just kind of the average guy, but the one thing my dad instilled in me: You show up early, leave late, work the whole time you're there."
"I'm real busy. I never turn off. Luckily my wife gets that. She's got a real strong work ethic, too."
"Between the three stores, we have a warehouse, right in the middle of it all, where we do our Facebook Live shows, our Amazon stuff, our website stuff."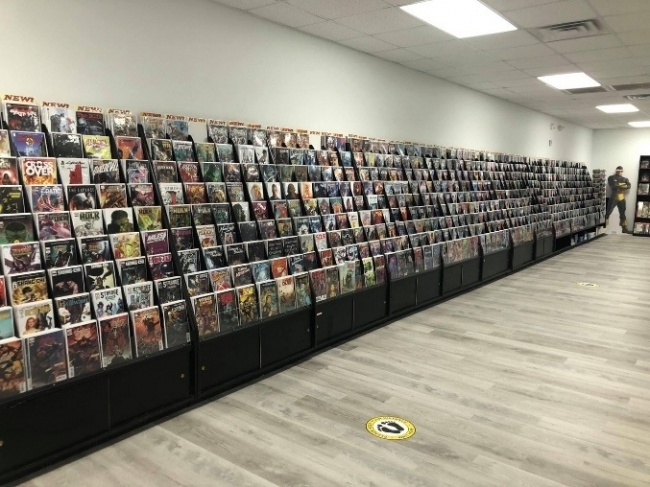 "Even with the pandemic, things are going pretty well for us. We pivoted pretty quick to doing Facebook Live, and that helped us tremendously. The months that new product stopped coming in because Diamond effectively turned off the spigot saved a lot of stores. Even though Diamond got a lot of flak for that, I am real fucking glad they did it. If we would have still had pallets of books coming in without being able to open, it would have been very difficult."
"I work with
Bret Parks over at Ssalefish Comics
. He's got three stores and we're both in North Carolina, and we became friends. I believe in working with other stores even if they're my
direct
competitor. I'm starting to work with Atomic Empire and they are
right
next to me. But if there's a way we can both be more profitable, let's talk."
"I just moved my store [in December 2020 (my store that I consolidated 12 years ago); I just relocated that spot. It was a significant upgrade. And the little things… I'm looking at the floor and I'm like, 'Well, I could probably get by filling in the blank spots on the floor with some tile that looks
similar
to what I have in the rest of store that's cheaper, but… I just couldn't do it. I just couldn't do that, and it felt like I'd be cheaping out on my customers and they've been good to me! And I've been real happy! People have noticed the floor. I spent almost $11,000 on that floor, and I really appreciate that people notice it. I'll send you the pictures. You'll say, 'Oooooh, that floor does look nice!'"