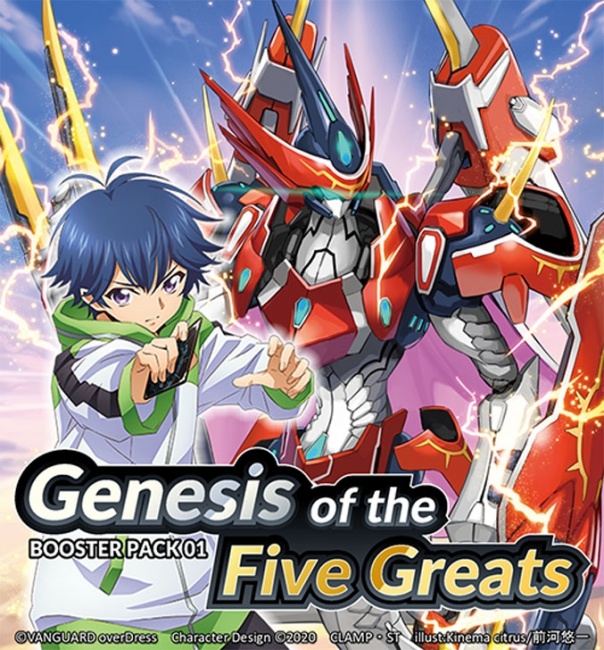 Bushiroad announced
Cardfight!! Vanguard overDress
, a new set featuring five Start Decks and
Booster Pack 01: Genesis of the Five Greats
, for release in May.
There are some big changes coming to
Cardfight!! Vanguard
with the release of the new
overDress
set. The biggest one is that they have consolidated the game's 24 major clans into five Great Nations: Keter Sanctuary, Dragon Empire, Brandt Gate, Dark States, and Stoicheia. Each Great Nation will have its own Start Deck (five Start Decks in all):
SD 1: Yu-Yu Kondo - Dragon Empire
,
SD 2: Danji Momoyama -Dark States
,
SD 3: Tohya Ebata - Keter Sanctuary
,
SD 4: Megumi Okura - Stoicheia
, and
SD 5: Tomari Seto - Brandt Gate
. These decks will release on May 14, and will carry a special retail price of $3.99. Start Decks will include everything players need to begin playing for roughly the price of a Booster Pack.
A week later on May 21,
Booster Pack 01: Genesis of the Five Greats
product will be released. These packs will feature cards that card build on Start Decks or lead to entirely different strategies. The set consisting of 120 new series cards, breaks down as follows: RRR: 10 types, RR: 15 types, RR: 30 types, C: 65 types, DSR:2 types, SP:40 types, H:50 kinds, and a token card.
Bushiroad will also release
Cardfight!! Vanguard Special Series 07: Clan Selection Plus Vol. 1
on February 26 (see "
'Cardfight!! Vanguard: Clan Selection Plus Vol. 1'
").