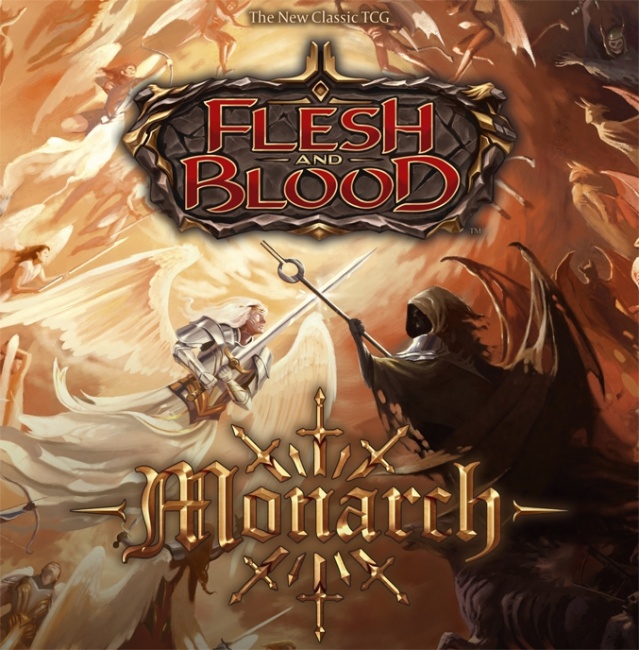 Legend Story Studios unveiled
Monarch
, a new set for
Flesh and Blood TCG
, for release on April 30.
Hot off the heels of a successful Crucible of War First Edition release (see "Preview: 'Flesh and Blood' 'Crucible of War' Cards Unveiled!"), Monarch First Edition is a 307-card standalone set that highlights the classic conflict of light versus shadow in sealed deck, booster draft, and constructed formats. James White, Founder and CEO of LSS commented on the new set.
"For the duration of the 7 years Flesh and Blood was in development, the big reveal that comes with Monarch, and continues thereafter, was a foundation stone of the entire game's design," he said. "It's something very clean and simple, yet it adds huge depth to how players will approach deck construction, managing their collections, and experience the way the world of Rathe has been meticulously woven into the product experience."
Monarch booster packs contain 15 cards and a token, and each pack features a Premium Foil card, a Rare card or higher, an Equipment card, and 11 common cards. Displays come with 24 packs, and four displays to a case. The set's rarities break down as follows: 18 types of tokens, 159 commons, 13 Equipment cards, 79 rares, 31 Majestic cards, 6 Legendary cards, and 1 Fabled card. Booster packs will retail for $3.99.
The Monarch set will also come with new Blitz decks. These are ready-to-play decks that contain 40 cards, plus Hero, Weapon, and Equipment cards. Eight decks come with a display, and displays have two of each hero type. These decks will retail for $11.99.
Prerelease events for Monarch will run from April 24 to 25, and LSS is supporting their player community by offering the option of At Home Release Events for regions where OP is unavailable in-store. They have also announced that the Monarch Unlimited print run will be released on May 21.
Click Gallery below for full-size images!