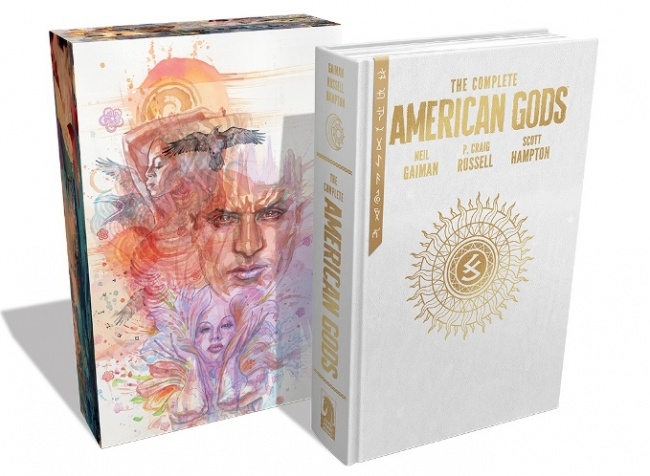 Dark Horse Comics will release
The Complete American Gods
, a hardcover collection of the comic adaptations of Neil Gaiman's
American Gods
novel, on September 14, the company announced. The 720-page volume will collect 27 issues of the comics, which were previously collected in three smaller graphic novels. Volume 3 was released last summer.
The hardcover collection will come with a slipcase featuring new illustrations by David Mack, and a bookmark ribbon with a gold pattern. MSRP will be $124.99.
The adaptation of Gaiman's novel features art by Scott Hampton, P. Craig Russell, Glenn Fabry, Walter Simonson, Colleen Doran, Mark Buckingham, and Galen Showman with colors by Scott Hampton, Lovern Kindzierski, Laura Martin, Colleen Doran, Adam Brown, and Jennifer T. Lange.
The third season of the
American Gods
TV series is currently airing on Starz.
Click Gallery below for full-size images of the slipcase and cover!