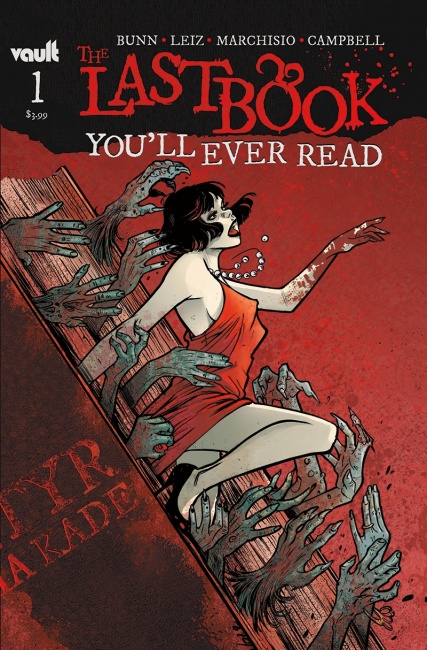 Vault Comics announced
The Last Book You'll Ever Read
#1, a new horrors series, which will release in July.
In this new series written by veteran horror wordsmith Cullen Bunn (see "
Horror Writer Cullen Bunn Pens Valiant's 'Shadowman' #1
"), a writer named Olivia Kade pens the book that ended the world and need to find someone that is unwilling to read it. Her best-selling book,
SATYR
, is causing the collapse of civilization as it inspires those who read it to commit acts of senseless violence. She looks to conduct a national book tour, with her bodyguard Connor Wilson, in an attempt to save what is left of humanity.
"This is a story of fantasy and supernatural horror, but the themes and concepts haunt me like a ghost in the dark," Bunn said of the new series. "
The Last Book You'll Ever Read
is about the collapse of society, about the descent or de-evolution of mankind. The book referenced in the title is the bible of this massive shift. In ourselves. In our friends and neighbors. In our culture. In the world around us. Reality itself is becoming more fierce and wild, and it is taking us with it."
This book features art by Leila Leiz
,
coloring by Giada Marchisio
,
lettering by Jim Campbell
,
and design by Tim Daniel
.
The first issue will have a variant cover by Jen Hickman, and this comic will retail for $3.99.
Click on Gallery below for full-size images!