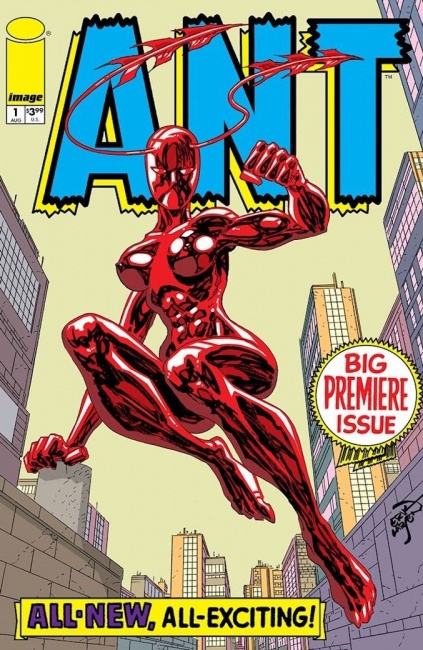 Image Comics co-founder Erik Larsen will relaunch
Ant
in August with a new origin story for the title character.
Ant
#1, the first issue in the new series, will go on sale on August 25 with a cover price of $3.99. Larsen has drawn four different covers for the first issue; all four will be available in regular or retro trade dress.
Larsen will also provide the story and art for the 12th and final issue of Image's first
Ant
series in June, wrapping up the story after a 14-year hiatus.
Ant
was created by Mario Gully, and the first four issues were published by Arcana Studios in 2004. Gully then pitched the series to Image Comics, where Larsen was publisher at the time. Larsen says he collaborated with Gully on the character and wrote and laid out the final issue, but it was not published at the time; instead, the series stopped in 2007 with issue #11, leaving the story incomplete.
Larsen bought the character from Gully and included her in a four-part
Spawn/Savage Dragon
crossover; at the time, he was collaborating with Todd MacFarlane on
Spawn.
The first issue will reintroduce the character with a new origin story, and after that the series will follow her on a new set of adventures that occasionally touch on events in the earlier series.
Click Gallery below for all cover images!