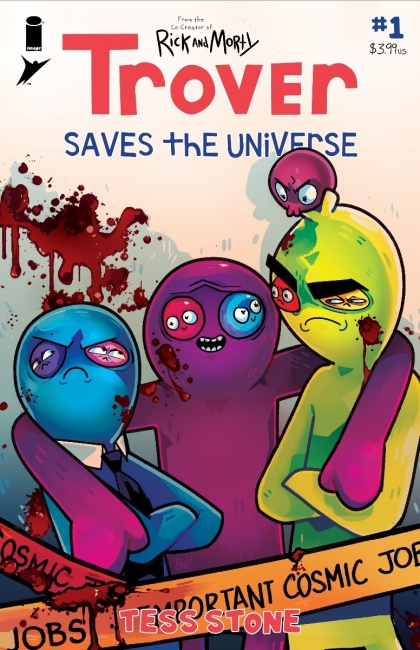 Image Comics and Skybound Entertainment revealed
Trover Saves the Universe
, a comic miniseries based on a video game series by
Rick & Morty
co-creator Justin Roiland, for release in August.
Trover Saves the Universe was originally released as a 2019 action platform game developed by Roiland's Squanch Games and was released on multiple platforms, including PS4, XBox One, and Nintendo Switch. In the game, the player assumes control of a Chairorpian who is accompanied by Trover, a purple alien, as they go on quests and collect power babies. The new miniseries focuses on the Important Cosmic Job company where employees are ranked by their boss, and the worst employee literally gets the ax. In the first book, ICJ's top eyehole monster is killed, and Klover and Bo are accused of murder. They now need to avoid the Space Cops while attempting to clear their name.
This book was created by Tess Stone. It will feature two covers: a Cover A by Stone and a Cover B by Roiland and Stone. Trover Saves the Universe #1 will retail for $3.99 upon release.
Also, the Oni-Lion Forge Publishing Group will launch Orcs in Space, a new comic series co-created by Justin Roiland (see "'Rick and Morty' Co-Creator Co-Creates 'Orcs in Space' Comic").
Click on Gallery below for full-size images!