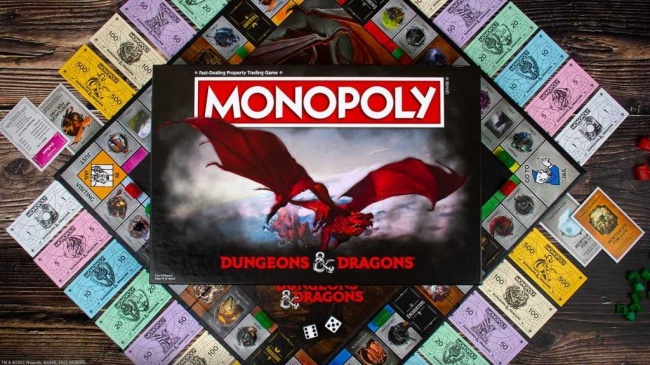 The Op announced
Monopoly: Dungeons & Dragons
, a new edition of
Monopoly
, which is on preorder for retail.
Two Hasbro's strongest IPs, Monopoly and Dungeons & Dragons (see "WotC Segment 75% of Hasbro Profits in Q1"), have combined forces to make a single, highly-marketable game product. In this version of Monopoly, players move tokens sculpted as Halfling Rogue, Human Fighter, Human Wizard, Dwaven Cleric, Elven Ranger, and a Tiefling Bard around the board capturing monsters (properties). The hotels and houses are Expeditions and Bases in this version, and Chance cards and Community Chest cards are renamed Encounters and Treasures. Players collect custom D&D currency to become the richest adventurer and win the game!
The game box comes with a game board, 6 collectible tokens, 28 Title Deed cards, 16 Chance cards renamed Encounters cards, 16 Community Chest cards renamed Treasure cards, custom D&D Monopoly Money, 32 Houses renamed Expeditions, 12 Hotels renamed Bases, 2 dice, and rules. This game is for two to six players, ages 8 and up, and plays in 60 minutes. It will retail for $39.99.
Click on Gallery below for full-size images!