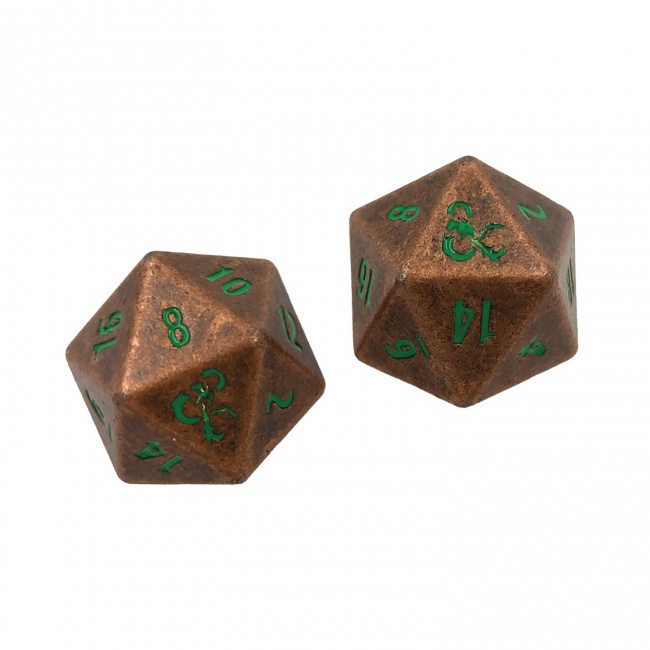 Ultra PRO unleashed the
D&D Fall 2021 Copper & Green Dice Collection
, which will hit retail in the latter half of 2021.
These stylish fall-themed Heavy Metal Dice Sets can turn the average barbarian or fighter into a true Natural 20-rolling angel of death when battling black magic or exploring the wilderness where evil has no boundaries. These dice are made of a heavy, zinc alloy material which makes them both sturdy and ready to help make enemies die by the sword. There are three different sets in this war ensemble of metal dice:
D&D Copper & Green: Heavy Metal 7 RPG Dice Set. This set comes with a d4, d6, d8, d10, d12, d20 and a percentile die for $49.99.
D&D Copper & Green: Heavy Metal d20 Dice Set. It comes with two metal d20 dice for $15.99.
D&D Copper & Green: Heavy Metal 4× d6 Dice Set. This set features four dice with the iconic D&D logo on them. It will retail for $29.99.
When the violent pacification of monsters isn't on the agenda, players can store their dice in new Plush d20 Dice Bags. These puffy dice bags come in two sizes, 6.5" in diameter and 10" in diameter. The Plush d20 Dice Bag (6.5") will retail for $19.99 and the Jumbo d20 Dice Bag (10") will retail for $25.99.
Ultra PRO also released Dungeon's & Dragons: Icewind Dale Heavy Metal Dice (see "Don't Get Trapped Under Ice Without 'D&D Heavy Metal Dice'! ").
Click on Gallery below for full-size images!