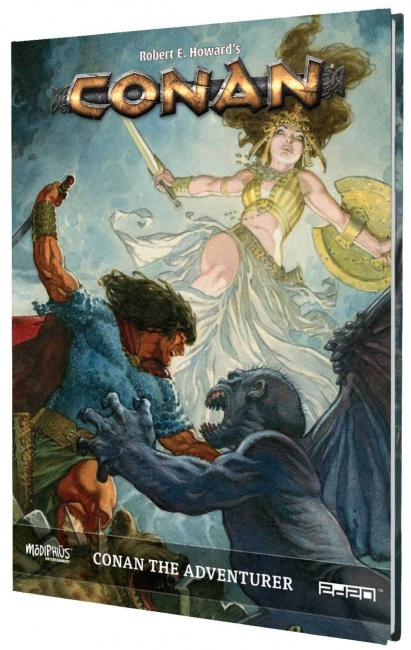 Modiphius Entertainment will release
Conan the Aventurer,
a new RPG sourcebook for
Conan: Adventures in an Age Undreamed Of,
into retail in 2021.
Conan the Adventurer provides setting details to the lands south of the Styx River, including Stygia, Kush, Darfar, Keshan, Punt, Zembabwei, and the "Black Kingdoms". This books features new character archetypes such as the Adventurer, Griot, Tomb Guardian, and Witch-finder, and includes their talents, war stories, educations, equipment, and background elements. It also has provides new beasts and monsters for encounters like giant scorpions, the pig devil, the Crawler in the Dark, and the immortal vampire queen Akivasha.
Conan the Aventurer comes as a 112-page FC book, and will retail for $37.00. This book requires the core book for use.
Modiphius Entertainment will also release Conan the Scout, a new RPG sourcebook for Conan: Adventures in an Age Undreamed Of, in June (see "Explore the Pictish Wilderness in 'Conan the Scout'").