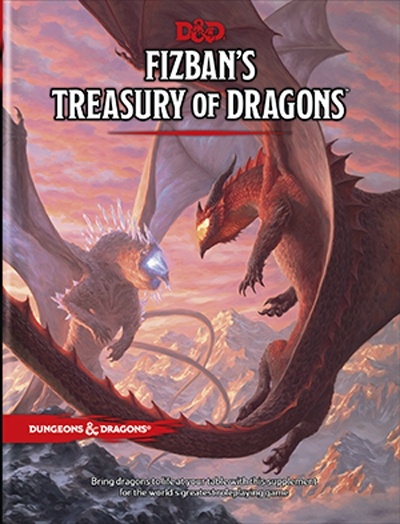 Wizards of the Coast unveiled
D&D Fizban's Treasury of Dragons
, a new guide to dragonkind for
D&D
5E, for release in October.
This comprehensive guide to dragons has everything players need to harness dragon magic in games and create unique draconic characters. It also features new Dungeon Master's tools for making dragon-themed encounters, adventures, and campaigns. This book has a complete dragon bestiary, which adds the gem dragons to 5E. D&D Fizban's Treasury of Dragons also tells the story of the roles of Bahamut and Tiamat in the creation and destruction of the First World.
It will come as a FC hardcover book with a variant cover available. This book will retail for $49.95.
Wizards of the Coast announced The Wild Beyond the Witchlight: A Feywild Adventure, a new adventure book for Dungeons & Dragons (see "A Brand-New Faerie Adventure is Coming to 'Dungeons & Dragons'").
Click on Gallery below for full-size images!