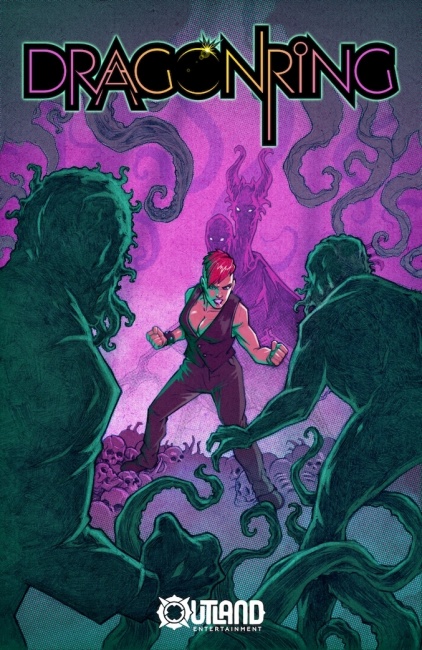 Writer Cullen Bunn (
The Sixth Gun, Harrow County
) will be the architect and lead writer of a new comics multiverse based on five comics originally created by the late Barry Blair and published in the 1980s and 1990s by the Canadian publisher Aircel Publishing. The new project was announced by comics and game publisher Outland Entertainment, which has acquired
Dragonring
and numerous other Blair properties.
The first project will be a relaunch of the comic
Dragonring,
a horror and adventure series that was created by Blair and artist Guang Yap. Bunn will write the comic, and artist Shannon Potratz will draw it.
Dragonring
was originally published by Aircel starting in 1986, and its 26 issues were collected into two volumes. In a statement accompanying the announcement, Bunn described the new
Dragonring
as "One part sequel, one part re-imagination," adding "We are introducing new heroes, new villains, and a new mystery." He and Potratz are creating a 10-page preview comic for Planet Comicon, which will be held in Kansas City, Missouri, in late August.
Dragonring
is the first of five series, all former Aircel properties, that Outland plans to reboot as new series; the others are
Demon Hunter, Elflord, Gun Fury,
and
Samurai.
"We have five unique universes," said Bunn. "High fantasy, horrific apocalyptic, bizzarro crime dystopia, cyberpunk, and pulp adventure—all with a new attitude and a new style, all with a shared destiny." Bunn will be the architect and lead writer for this new multiverse, which will offer fresh takes on the classic properties.
Aircel originally manufactured foam insulation, but when the company lost a government contract, Blair, who was an employee at the time, persuaded the owner to convert to comics publishing, and the company created a hefty catalog of black-and-white comics with color covers. Blair wrote many of the series, but not its most famous property,
Men in Black,
which was later adapted into the film of the same name (see "
'Men in Black' Go International in New Promo Image
"). When the indy comics market collapsed in the late 1980s, Aircel merged with Malibu Comics, and it officially shut down in 1994 when Malibu was purchased by Marvel.
In making the announcement, Outland founder Jeremy D. Mohler said that he plans to crowdfund the books on Kickstarter, but they will also be available to the direct market.
Click Gallery for covers and preview!