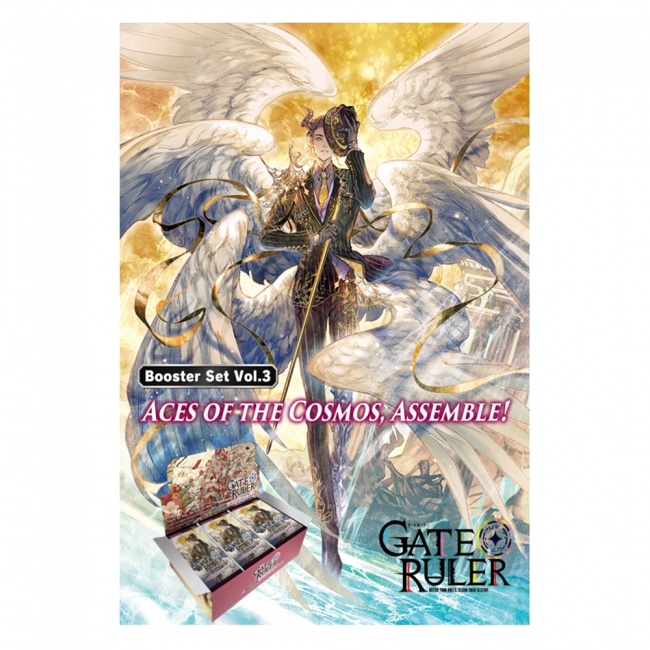 Daiyu will release
Gate Ruler Booster Set Vol.3: Ace of Cosmos, Assemble!
, a new booster set for
Gate Ruler TCG
, as well as two new starter decks on October 29.
Booster Set Vol.3 adds a brand-new rarity, the Superior Rare, to the mix. It inserts a new [DR](Damage Reversal) mechanic to the game that allows players to attain powerful effects after they have taken lots of damage, and this set also features powerful new cards for tribal decks. The rarity breakdown for the 122-plus card set is as follows: 47 kinds of one-star cards, 21 kinds of two-star cards, 16 kinds of thee-star cards, 17 kinds of four-star cards, 9 kinds of Superior Rares (7.28.2021 - corrected from "49" by publisher), 6 kinds of Legend Rares, 6 kinds of ruler cards, and an undisclosed number of Secret cards. Booster packs will come with 10 cards, and a display box has 36 packs as well as a Buy-a-Box PR card.
Two starter decks will release with the new booster set. The New York Zombiepocalyps deck is themed around a zombie outbreak in New York City. It comes with 55 cards, a rulesheet, and a playmat sheet. The March with the Dragon Lords deck allows players to command an army of dragons and use their powers to win. This deck comes with 54 cards, a rulesheet, and a playmat sheet.
Daiyu launched Gate Ruler, a new trading card game from designer Yoshimasa Ikeda, earlier this year (see "Daiyu Details English Release of New TCG 'Gate Ruler'").
Click on Gallery below for full-size images!