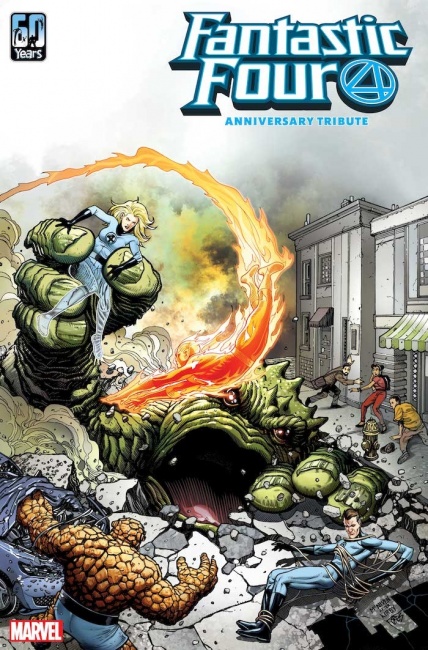 To celebrate the 60th anniversary of the Fantastic Four, Marvel Comics has invited over 40 artists to reinterpret and redraw both the first issue,
Fantastic Four
#1, and the story in which Reed Richards and Sue Storm were married, from
Fantastic Four Annual
#3, both originally created by Stan Lee and Jack Kirby. The giant-sized special issue will be titled
Fantastic Four Anniversary Tribute
#1; the concept is similar to the Captain America/Avengers tribute that Marvel published in March (see "
Marvel's Top Talent Redraws 'Captain America Comics' #1 and 'Avengers' #4 into One Giant-Sized Issue
").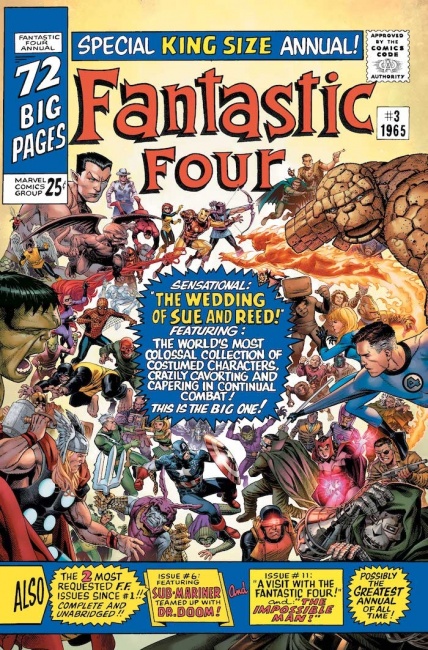 The artists involved in the project are Aco, Aaron Kuder, Adam Hughes, Albert Monteys, Alessandro Cappuccio, Bryan Hitch, Cafu, Carlos Pacheco, Chris Sprouse, Daniel Warren Johnson, David Lapham, Elsa Charretier, Erica D'urso, Federico Vicentini, Greg Land, Javier Rodriguez, John Cassaday, John Romita Jr., Kate Niemczyk, Kei Zama, Leinil Francis Yu, Leonard Kirk, Lucas Werneck, Luciano Vecchio, Marco Checchetto, Mattia De Iulis, Michael Allred, Mike Del Mundo, Neal Adams, Nic Klein, Olivier Coipel, Paco Medina, Patch Zircher, Pepe Larraz, Ray-Anthony Height, Rod Reis, Ron Frenz, Simone Di Meo, Stefano Caselli, Steve Epting, Tom Reilly, Salvador Larroca, Jorge Fornes, Kim Jacinto, Walt Simonson, Simone Di Meo, Leonardo Ortolani, Sanford Greene, Terry Dodson, and Mark Bagley.
The issue will have a main cover by Steve McNiven and a variant cover by Jim Cheung and will go on sale in November.
Click Gallery for full-size covers.