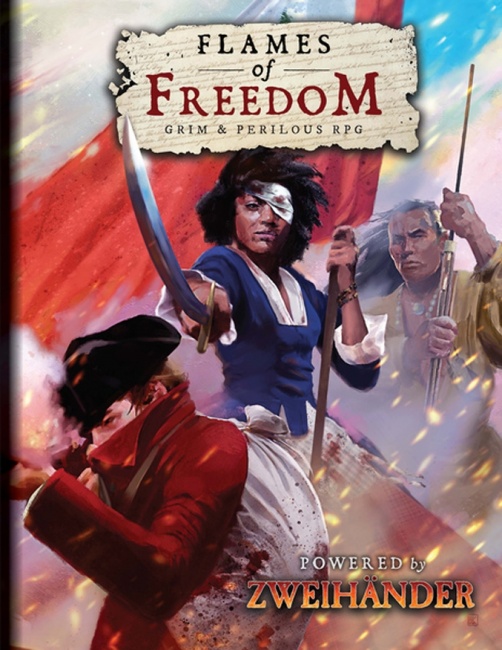 Andrews McMeel Publishing (AMP) will release
Flames of Freedom: Grim & Perilous RPG
, a new American Gothic horror tabletop roleplaying game, in October.
This new TTRPG, powered by the Zweihander RPG engine, places players in an alternate historical timeline where the supernatural horror stories of the American Revolution come to life. This game is a journey through the landscape of the 1776 America enhanced by sightings of evil entities such as the witches in the Great Dismal Swamp and Indigenous Sachem speaking of devils that are amongst the living. Players will also encounter a dark cabal known as "The Mandoag" in some scenarios.
Flames of Freedom: Grim & Perilous RPG was created by Richard Iorio and developed by Danial D. Fox and his team to appeal to fans of historical fantasy. The multicultural design team that developed this book included Indigenous writers from the nations represented in the book, Black cultural consultants, and RPG safety and trauma experts. This 672-page hardcover will retail for $65.00.
Andrews McMeel Publishing (AMP) also recently partnered with Will Shortz and Robert Fuhrer of Nextoy LLC. to create a new games imprint, Will Shortz Games (see "Puzzle Legend Will Shortz ").