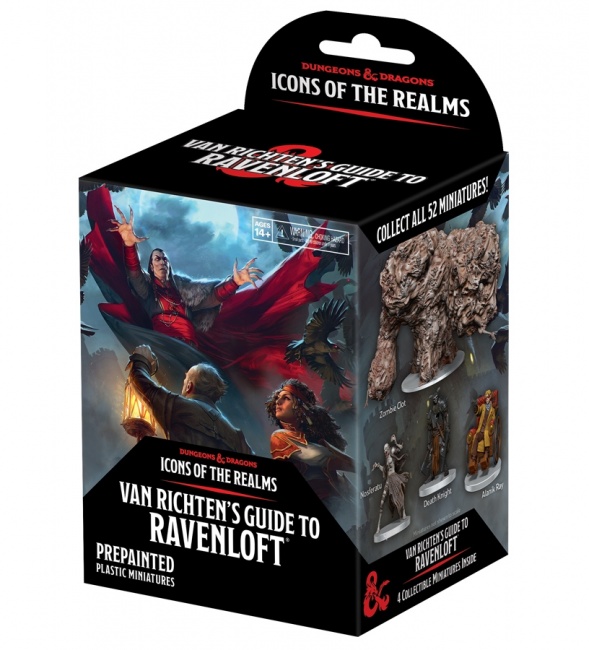 WizKids will release
D&D Icons of the Realms: Van Richten's Guide to Ravenloft
miniatures products into retail in December.
WizKids dove into Ravenloft last year when they released their Curse of Strahd Premium Box Sets (see " Curse of Strahd ' Premium Box Sets"), and now they are back for another run at the legendary D&D setting for WotC's pending release of Van Richten's Guide to Ravenloft (see "Returns to 'Ravenloft'"). The 21st D&D Icons of the Realms set features Huge Boosters containing four prepainted plastic figures each, one Huge or Large figure and 3 Medium or Small figures, with a total of 52 figures in the set. The boosters come in two configurations: the Huge Booster and the Huge Booster 8-count Brick. The Huge Booster 8-count Bricks retail for $159.92, and come four units to a case.
For every case of Huge Booster Bricks ordered, retailers will receive one D&D Icons of the Realms Miniatures: Van Richten's Guide to Ravenloft (Set 21) Strahd Promo. The promos are not for resale, and retailers are encouraged to use their own discretion when distributing them. This is a limited time offer, while supplies last. Also, WizKids will release a Gravedrinker pre-painted miniature as a standalone set. This miniature is 9.75" tall and will retail for $89.99.
Click on Gallery below for full-size images!