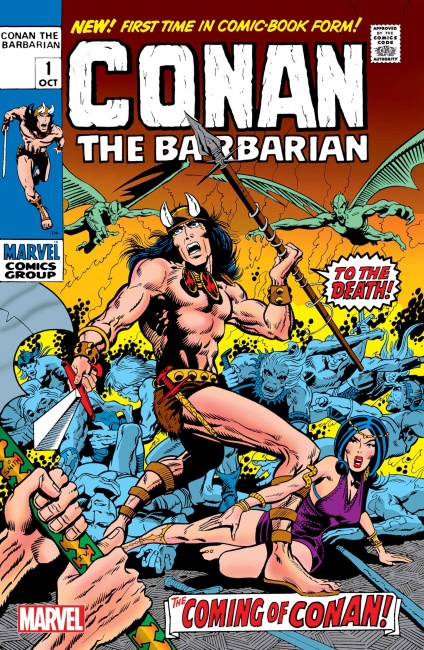 Marvel Comics will release a
Conan the Barbarian
#1
(Fascimile Edition)
into comic book stores on December 1.
It's been over fifty years since writer Roy Thomas and artist Barry Windsor-Smith combined forces to create a comic adaptation of Robert E. Howard's iconic character, Conan the Barbarian.
Conan the Barbarian
#1 hit shelves in October of 1970, and featured one of the most iconic covers in all Marvel Comics' history. The cover depicts Conan protecting a maiden in peril while he fends off winged demons with a spear in one hand and a sword in the other.
The original comic tells the story of how a Conan and an Aesir raiding party invaded Vanaheim. This impromptu invasion would result in an adventure where Conan encounters the winged demons, a dark temple, and the Star-Stone. This book featured the first appearances of Conan the Barbarian, Tara, and Crom (invoked) as well as a cameo appearance of King Kull.
Like other Bronze Age comics (see "
First Appearance of Ghost Rider
"), the original issue of Conan the Barbarian #1 has been climbing in value. A CGC 9.4 copy, with white pages, sold via eBay on September 20 reached a price tag of $2,499.99 plus shipping. A similar 9.4 sale was recorded in June 2021 at $2,100, according to
GoCollect
, which represents a 14% jump in a few months. With a new Conan live action series in development for Netflix (see "
'Conan' Live Action Series In Development
"), this facsimile edition gives new readers a chance to experience the first issue of Conan the Barbarian without a hefty price tag.
Conan the Barbarian #1 (Fascimile Edition)
will retail for $3.99.
Click on Gallery below for full-size image!